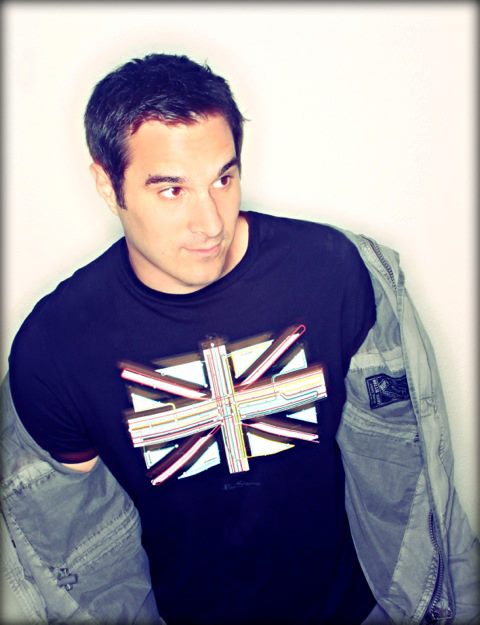 Some people have it all dashing good looks, wit, charm, charisma, while others..well..they rely on humor. Comedian John Campanelli, he just hopes that his mom is in the crowd (his biggest fan).  We kid, we kid!  Comedian John Campanelli is not only one of the most buzzed about up and coming comedians, but he is also one stand-up guy, pun intended. The New York native is now a Los Angeles transplant, who has been making his rounds on the comedy circuit. Groundsounds got the chance to cut it up with the one and only J.C. Check it out!
Groundsounds: Hey John, whats happenin'?
I don't know anymore, what day is it?
Groundsounds: How did you get into comedy?
I looked up open mics, I went to an open mic AND JUST NEVER LOOKED BACK.
Groundsounds: How long have you been doing comedy?
2.5 years and proud.
Groundsounds: If you had to pick, who would you say your favorite comedian is? Are there any comedians that influence you or that you look up to?
I appreciate different styles way too much to have a favorite, so I do not have a favorite.  But I am a fan of a few guys.  I am fortunate to be able say that some of my favorites/ ones that I look up too are now my friends.
Groundsounds: When preparing a routine are there any specific methods that you use in your creative process or do you kind of just let things flow more naturally?
There is a certain formula I try to follow.  I understand what is going to work for me on stage and what isn't.  Sometimes an idea might sound funny, but does not translate well on stage.  I am able to recognize that. There is definitely a natural flow as well.   All of my comedy is drawn from a real and true place.   My jokes are my point of view and a part of who I am.
Groundsounds: Who is Rico?
RICO!  Haha, he's a buddy of mine who needed a place to crash for a little.  So I let him stay with me.  Our hours were different.  He was a vampire.
Groundsounds: I definitely agree with you that 'Freaky Friday' should never be remade!
You remember that joke! HA! You have been with me since the beginning.  Oh man, oldies but goodies.  I haven't done that joke in a while.  Thinking I might start doing it again.
Groundsounds: How was it performing at the Comedy Store?
The Comedy Store has been great.  I have performed at that venue the most out of any other.   Honestly, if it wasn't for Comedy Store I do not know where I would be right now.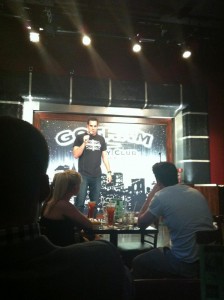 Groundsounds: Were you a class clown in grade school?
Yes, I was!  But my friend P.J. beat me out for Class Clown in the yearbook.  I'll have the last laugh.
Groundsounds: What is the most intimidating stage/crowd that you've hopped on/in front of?
I remember being given an opportunity @ The Laugh Factory in Hollywood.   I was standing there, just hanging out with some of the guys on the show and they said, "Go on and do 6 minutes."  I said, "ok! When?"  They said, "Now".  It was like 1 a.m.  I had 30 seconds to focus.  The acts I had to follow were Dane Cook who had just destroyed for 40 minutes, Chris Delia for 30, Al Del Bene for 20.  As Al got off stage the crowd began to leave.  I had to go follow all of those acts and make an impression in 6 minutes while the crowd was leaving.   That was gut check time.  I did fine.
Any opportunity you get where someone recommended you is tough because you are not only representing your name, but theirs as well.
Groundsounds: Would you ever audition for American Idol? I would have to say you do a great job singing "Staind" …….
I am a great dancer.  My vocals need improvement.  I would be a judge on American Idol though.   I think I should be on Dancing With The Stars, one day.
Groundsounds: Are you an avid consumer of McDonalds coffee?
More of a Starbucks guy as of late.    But McDonalds is surprisingly good.  Now, I want free coffee from these places because of my promotion.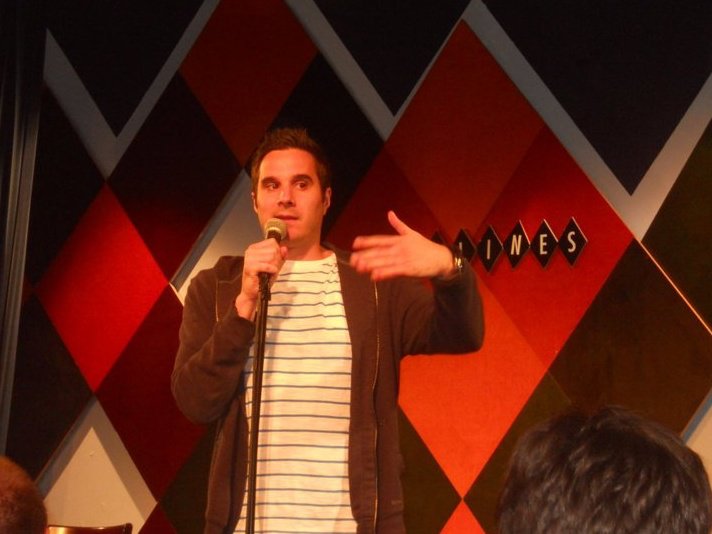 Groundsounds: Where at in New York are you from?!
Westchester
Groundsounds: When did you move to California?
January 2009.  Wow! Is that right?  Yeah, it is.
Groundsounds: How long were you working at TV Guide?
For a year and it was a GREAT EXPERIENCE.
Groundsounds: How has the transition been from TV Guide to pursuing a career in comedy?
TV Guide helped me a lot, actually.  I really got an understanding of the entertainment industry and how it operates in LA.  LA is different from NY, so I was able to understand the culture and the behind the scenes before pursuing my journey in comedy.  I gained valuable experience from TV Guide and met some great people who have helped me along the way.  I didn't even know it at the time.   Having opportunities to interview on the red carpet also helped my on stage presence.
 Groundsounds: What are your short term goals? Long term?
I guess we'll see.   It's a crazy business.   I'm working on some stuff…I know what I'm doing.  For now, just come to my shows.
Groundsounds: What advice would you give to individuals trying to pursue a career in comedy?
If you're going to do it, do it.
Twitter: @johncampanelli1     Youtube: johnrcampanelli        Facebook: John Fan Page
Comments
comments