Favorite Musician: Prince Favorite Artist: David Girabaldi
Latest posts by Tahsan Scott (see all)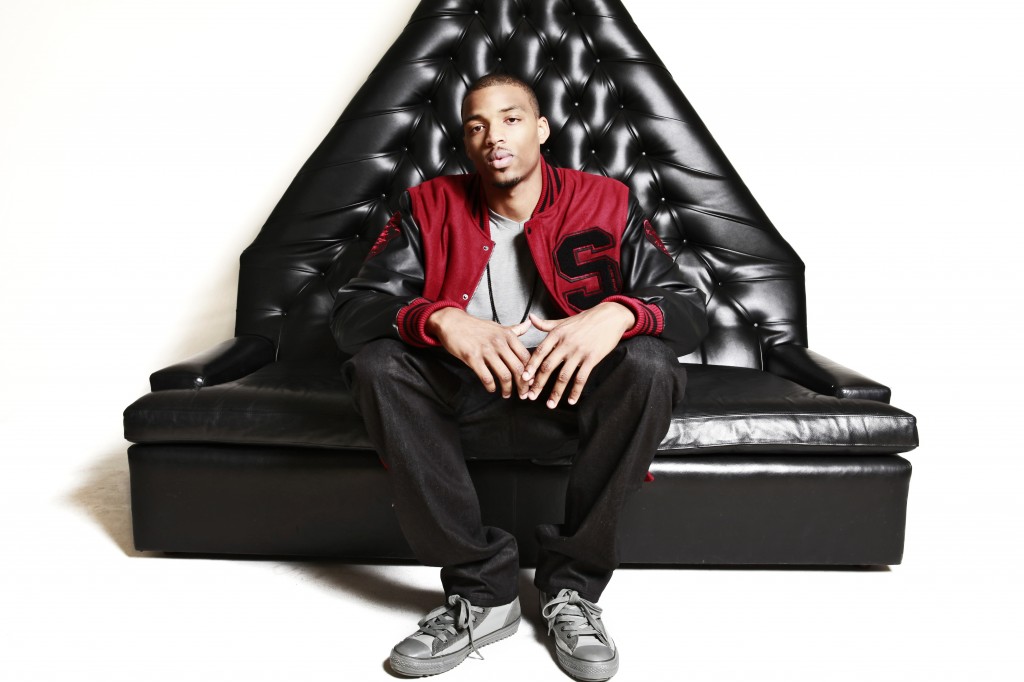 L.A. native and up and coming rapper Tyran Brown spoke to GroundSounds about his new mixtape: Hard Work. He also gave us some insight on his relationship with G.O.O.D. Music, his love for his alma mater, and the benefits of self-confidence.
Groundsounds: T. Brown, how you been man?
Whateedo G,  I can't complain just building and trying to get this brand going and the music out here to the people so they can fall in love with me.  I see you hit me with the throwback name hahaha!
Groundsounds: Now you are originally from the LA area, but you also rep Vegas too?
All day, Vegas I still consider home, I spent six of the most important years of my life out there. I still keep in touch mainly with my UNLV family, and I do my recording in Vegas too, so I rep LV almost to the same extent, its basically Cali anyway hahahaha.
Groundsounds: Now, I know you have a degree in marketing, why not work at some ad agency or something like that? Why are you pursuing a music career?
For a few reasons.  Number 1, this music thing is my gift. Creative writing is a blessing that was given to me from God, and a craft that I was working on long before I knew I wanted to rap, in terms of writing.  Secondly, just looking at it from the point of view that I do, I'm using college for exactly what I was supposed to, I picked a major, and applied it to my passion.  You said it, in the question music CAREER, in the music BUSINESS, in the entertainment INDUSTRY.  The main thing I studied in college was about branding, target markets, product placement, sales strategies, which all play a major part in the industry, coupled with the fact that I'm nice with that pen, coupled with the fact that I'm one of the top five most beautiful people of all time, I feel like I can't lose, so it was an easy choice.  I did the 9-5 thing for a while and felt unfulfilled.  I feel like I'm confident enough, and was built to be successful in this BUSINESS, so it was just a matter of stop talking and start showing.
Groundsounds: Who are your biggest influences musically?
It starts with that boy Nasir, being from the west coast, and being from a generation after Nas, I just always felt a connection with his music.  He gets a lot of flack for being contradictive, but that's what I appreciate about him, he gives you his various perspectives. I'm a Gemini so my mind is all over the place.  Then his body of work speaks for itself: crisp flow and vivid imagery in his story telling.  See I'm an intelligent young G, so I'm the type that needs to take something from your music, and I always do with Nas.  Shout out to the ratchets though, I love y'all too. 
Then from there, I'm from the West so you know Tupac is a must. He had me hating everything from New York in the 90s hahaha.  Then I would say Big Pun, for his rapid fire lyrical flow, Eminem lyrically with the metaphors, and overtime he became a great storyteller but still keeping the same rhyme pattern.  Amazing.  T.I. just for the confidence and arrogance he brings to the songs, and his ability to sound good on any beat.  Scarface, for just his ability to sound like he was talking to you, he just had such a passion in his delivery it was like I was getting advice from my Uncle on the porch listening to him, and I kind of adopted that in my music.  Then lately I would say Rick Ross.  He just has an undeniable ear for making epic music.  Find me a bad Rick Ross song, and I'll try to find you a girl that thinks I'm ugly. 
Groundsounds: Now I seen you have been doing a few events with some people from G.O.O.D. Music, tell me how you linked up with them…
Shout out to the staff at G.O.O.D. music for even allowing me to have some kind of platform for displaying my talents man.  All the love goes to the big homie Malik Yusef.  Pretty much I met him in LA, and we were talking and he was like "yea that's cool but let me hear you rap," hahaha…  so I had no choice. I spit a verse for him. He loved it. I feel like he took a look at my character and saw something.  Long story short, he introduced me to a few people, we handled some business and here we are. Through him and the staff I have definitely been introduced to this industry in a new way, and kind of got a peek into how things work like even the fruition of the Cruel Summer album. It's kind of dope, but it all stems from bumping into Malik Yusef, and him making me rap for him.
Groundsounds: So now this new mixtape, HardWork, what was the inspiration behind it, and what can the people expect to hear?
Well, I'm a dude that has been given a lot of advantages in life that I didn't always appreciate, and because of that I dug myself into a lot of holes that I spent years digging myself out of.   I've learned a lot about myself over the years and am still learning daily, but any progression I've made has been a testament to the dedication and effort I put into things…I worked hard.  That was very political and nice, now let me hit you with some of that creativity.  Anybody that knows Malik knows the background he came from in Chicago as far as the hustling game.  He met me and knew my raps and the package of Tyran Brown was that pure dopeness…  So Malik got some of that new fresh #HardWork…for you fiends to get addicted to…you feel me? OOOOHHHHHHHHHH SHITTTTTT, that's crazy right.  We know We know hahahaha.
Groundsounds: So where do you want to be in say, 5 years?
I hate that question, but it's ironic because the freestyle I spit to Malik, that has me sitting hear today says "Don't aske me no questions about myself in 5 years," hahaha.  Youtube it! Tbrown Drake Lord Knows freestyle.  But anyway man I can't call it, but if I'm still promoting mixtapes and haven't put out an album within the next five years, that'll be pretty funny for someone to bring up haha.  I want to be as successful as God needs me to be, and I want to be deep in the journey of my purpose of being here, and have been responsible for making someone a better person.  Everything else positive or negative is just what comes with it.
Groundsounds: If you were on a deserted island with only 3 albums to listen to, what 3 albums would they be, and why?
Hopefully I'd have an ipod with all my shit on it hahah but, T.I. Urban Legend, Nas It Was Written or Stillmatic, of something X-rated to get me through the cold and lonely nights hahaha.
Groundsounds: Anything you want to say to the people?
Yea man follow the instagram and twitter @tyranbrown247 and just take this journey with me, and look at me as a talented young entrepreneur who is sharing my vision with y'all…and don't put me in a box. I'm not in a category, I just give y'all my honest perspective from the righteous to the ratchet, from the intelligence to the ignorance, that we all have inside of us.  One thing I can guarantee is that you will love my music, so tell a friend to tell to tell their enemies about Tyran Brown.  Let's get it.
Comments
comments