Favorites: Bloc Party, 3EB, Gaslight, Tokyo Police Club, The Kooks, Pete Yorn, Andrew McMahon
Latest posts by Jake Craney (see all)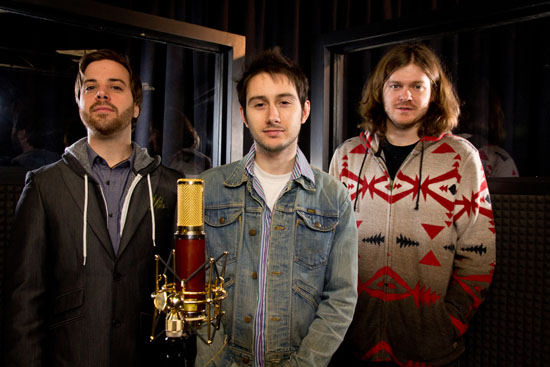 GroundSounds recently caught up with Socratic singer/guitarist Duane Okun to discuss the band's career, their newest album, and future plans. Be sure to check them out all over the web, including www.socratictheband.com
You've consistently put out songs with intelligent and clever lyrics. Who or what influences and impacts your writing from a lyrical perspective?
The majority of my writings come from simply observing day to day things. The greatest lines are always right in front of your face (though sometimes the hardest to see). I've always loved writers that can make something sound so beautiful even if they're writing about a cheeseburger wrapper. Make me love that wrapper!
A year ago you released Socratic (The Album), your third full-length. You self-released it as a "pay what you want" situation. What was the fan response to this method?
The response was certainly positive. These days without a label it's difficult to sell your music. Hell, even with a label no one wants to buy music these days. For the record, I'm completely against stealing music. You can't go on a bootleg urban outfitters website and print jeans from your computer printer. It's the same thing to me. We're lucky to have fans that are willing to pay the right price for our songs. We're extremely thankful for those of you.
 "Give & Take Two" is hard-hitting and vivid in its message. What inspired you to write this song?
I wrote the song when I was 18 years old. I was imagining what it would be like being old and miserable, losing all the dreams and hopes that I once had. I felt very scared that I'd amount to nothing once I was older. I was spending a lot of time at Rutgers where a few of my friends were attending college. It was a nonstop party. Everyone was drinking and doing their drugs. I wasn't a part of it. Looking back I'm no longer afraid of aging, but I admit that I was back then. Everyone feels that way at a certain point in their lives.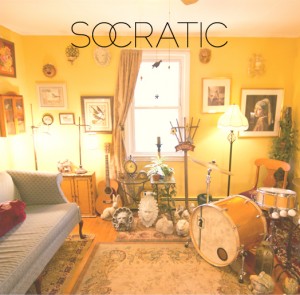 I've enjoyed all of your album covers for different reasons. They seem to reflect the band's attitude at those points in time; would that be fair to say? Did you guys do all of the designs/photography for the covers?
Thank you. "Lunch For The Sky" was my idea. Jesse LeDoux, who is most credited by his work for The Shins, took my idea and rolled with it. He did a great job making that album it come to life. It started as a sea of people waiting to get into heaven. The "Just Turn" EP was done by my close friend Marc Valega. It's one of my favs. At the time, "Spread The Rumors" was done by an associate at Drive-Thru Records. I don't want to hate on any of the art we put out, but that cover has always irked me. I think we could have put out something with a little more substance. The project was rushed. We were told the
cover was going to be like a tabloid a mere few days before pressing. "Socratic (The Album)" was a photo shot in my house where we filmed our music video for Curtain Call. We can thank our buddy Seichi for that one. He did a great job with the video as well.
There has been a great progression in your albums. Your newest release features quality songwriting, great lyrics, and a sense of maturity. Is there one song in particular from the new album that you're especially proud of or that sticks out as a favorite?
I am very proud of "Curtain Call". The song sums up a year of my life; sitting in my room feeling bored and missing my ex. "It's a wonderful life after all." I needed to tell myself it was. It was a time of my life where I needed to think positively. Being depressed is certainly not a good feeling. Honestly, I think it saved me. Plus, it kicked off a new creative craze for us. Without that song, the record may have never been completed.
"May I Bum A Smoke" is a fantastic song and you guys made a hell of a music video for it. What inspired you to write the anthem and what was your experience like shooting on the Venice Boardwalk (where you can pretty much get a contact high just walking around)?
Sometimes it takes months to complete a song. Sometimes it takes 5 minutes. I wrote that entire song in one sitting. It's one of the lyrics that you won't find in any of my journals. I was driving around alone in my car a lot back then. I never thought it would turn into an anthem of any sort. To me, the song is more about keeping your mind open and staying optimistic then it is about smoking weed. You don't need to get high to have that frame of mind. And Venice beach was great! Drive-Thru had the idea of making a low budget video for it and adding the lyrics like a children's sing along. I think we did get high walking around the beach that day.
What is your favorite place you've ever performed? Is there a location you haven't been to yet that you'd like to do a show?
Australia was the best! Would love to go back and play there again. I want to go to England in the near future.
Who are some of your favorite bands right now?
Rendez Vous.
What are your plans for 2013?
We will be releasing a new song and playing shows around the NJ/NY area. After that, I don't know. Guess we'll have to wait and see.
As a veteran band with over a decade of experience, what advice would you give to a new band just starting out?
Play what you like. If you play other music to make money, good for you too. Make sure you are the best. Selling your soul doesn't buy happiness.
Comments
comments