Favorites: Bloc Party, 3EB, Gaslight, Tokyo Police Club, The Kooks, Pete Yorn, Andrew McMahon
Latest posts by Jake Craney (see all)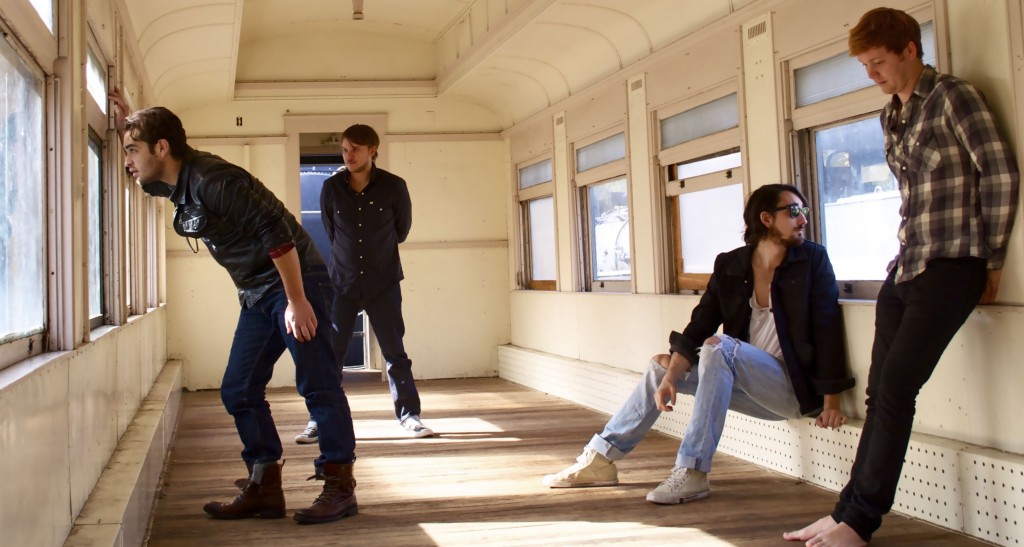 LA rock band Great White Buffalo released a highly-acclaimed EP earlier this year and they are hard at work on new music. GroundSounds recently caught up with GWB's Graham Bockmiller to discuss the band's past, present, and future.
Thank you for taking the time to chat with us. Tell us about how you met and formed the band?
Well Steve and I went to high school together, but we didn't really know each other that well then. Later on I decided to quit everything I was doing and move to San Diego to start a band. Our drummer at the time had been playing with Steve, and we all worked really well together. Steve and I have been together ever since. Later when we moved to LA, my drummer had to quit the band, but a girl that was in one of our old music videos said she knew a drummer. That drummer happened to be Rich, and as soon as we jammed with him we knew it was a fit. We went through a number of bass players up until we found Paul. We literally found him on Craigslist, which is nearly impossible to do, but I guess it was meant to be. Once Paul joined, the lineup was solidified. 
Where did the name Great White Buffalo come from? Does it refer to 'your first love – the one that got away' concept?
The name actually came from my sister. We had been trying to think of a name for a long time, but couldn't come up with anything. She said "How about Great White Buffalo?" and everyone really liked it. We had no idea where it came from but we liked it. We later found out that she may have "lifted" it from the movie Hot Tub Time Machine, but at the time we didn't know that. We're into the idea of "the one that got away", but it doesn't really have to mean that specifically. We just liked the idea of a rare event or person that you only see once and leaves something with you. Not to say that's us as a band, but we like the idea of that. 
Your new EP came out earlier this year. What was the inspiration for the songs and what was the goal for the sound of the EP?
The inspiration for songs is always different. Its never one specific "thing" but more of a combination of experiences and events. It always comes from the energy all four of us bring to rehearsal. It all kind of get thrown in a blender and what comes out is a pina colada of all of it mixed together. Our goal was to make the EP sound like our live show, except a little more polished. We wanted to get all the tones and melodies sounding great without it sounding over-produced. We wanted it to sound raw and live, but also have a depth to it. We all think we achieved that with this EP. 
What was your experience like working with Philip Allen?
Terrible. Just terrible. Imagine a sadomasochist, except instead of using a whip he uses a computer and microphones. He's like a mix of Hitler and M. Bison, except more moody. No I'm joking, Phil is the best. I actually went to college with him so we've know each other for a pretty long time. Being in the studio with him is awesome, we joke around and have fun, but we also work hard and get great sounding music out of it. It's also great to hear the stories about the big acts he's work with. We can't repeat a lot of them, but they're great.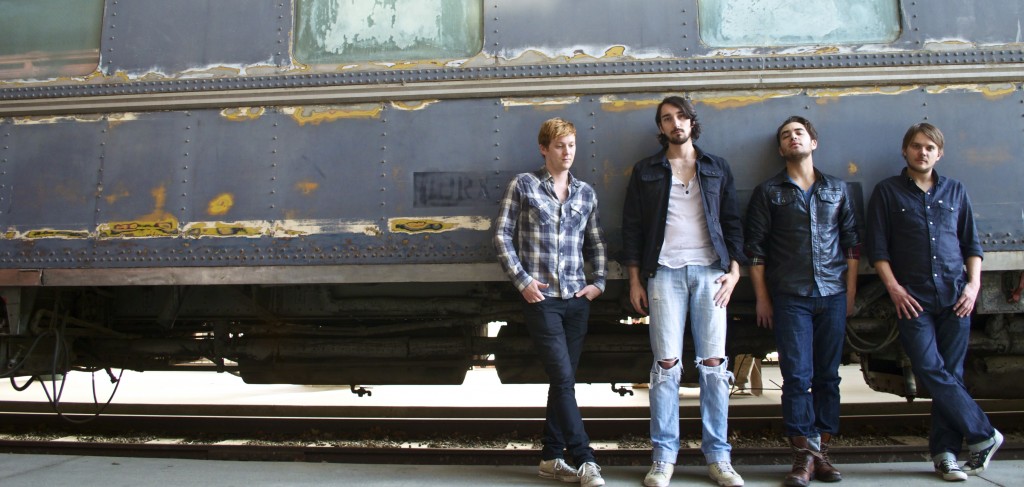 Do you have a song you've written (from any release) that stands out as a favorite for you?
The songs are kind of like our children, we love all of them, but each of us have different favorites. And it always changes. Sometimes certain songs misbehave and they go on time-out. But then a little while later they'll be a favorite again. I know Rich and Paul really like In the Fold, I think Steve's favorite is Likely Story, and personally I like Teeth and Burn the most. But at the end of the day we like all of em. 
Tell us about your new video for "Thanks For Nothing" and the idea behind it. Where did you film it and how long did it take?
The idea was really pretty simple. We didn't wanna have some drawn out story-line or some drama piece that could possibly turn out lame. All we wanted to do was show what our live show is like, show who we are, throw a couple babes in there, and call it a day. We filmed it in a warehouse in downtown LA like 2 blocks from skid row. We literally shot it in one night, over about 5-6 hours. We just played the song over and over until we had enough footage and the right shots. We brought in a bunch of people and fed them beer and tequila to keep them happy. They seemed to have a good time. 
What do you typically draw inspiration from lyrically?
From everywhere really. What I usually do is just write down little ideas I have in my phone. Sometimes I'll come up with a line while I'm walking down the street and just write it down. When it's time to actually solidify the lyrics I go through all my notes and work them all out. For example, one time I was walking down the street and I had JUST bought these new shoes and stepped in a big wet pile of dog shit. So I wrote down "I got dog shit on my favorite sneakers", which is in the song Teeth. The other main way I come up with the lyrics is just free-styling while we're rehearsing. We'll be working on a new song that has no lyrics and stuff will just come out. 9 times out of 10 some of the first things that come out end up sticking. Steve also writes some of the lyrics, and he has pretty much the exact same method. Other times all four of us will work out some of the lines when we're in the studio. 
Your brand of guitar-driven rock almost instantly takes you back to another era of 'rock music,' yet also sounds new and refreshing. Who are some of your biggest influences that have helped shape the way you sound?
A lot of things have shaped our music, and we all like a lot of the same bands, but also like different stuff individually. We love old rock music, but we always try to change it and make it sound new and fresh. That's a big lesson we learned from The Strokes, who we're all big fans of. They took classic rock sounds and made it sound really fresh and cool. A couple of other bands we all like are Arctic Monkeys, Queens of the Stone Age, and older Kings of Leon. 
The new EP's artwork is excellent…very striking and memorable. Who designed it?
The picture that we used for the album cover actually came from Rich. The picture is actually a drink coaster sitting on a red table cloth. The coaster is from a Native American reservation and we have absolutely no idea how old it is or who actually made it. It was during Christmas time and Rich was at his parents house in Colorado and took a picture and sent it to me. We saw it and were like "That has to be the cover for the EP."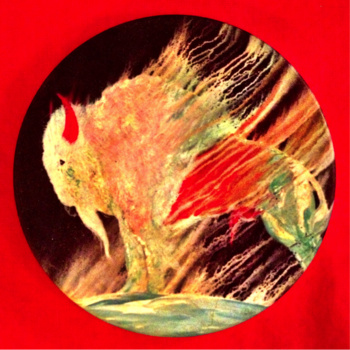 What are you working on currently and what are your plans for the rest of the year (both with music and touring)? Where is the best place to stay updated with you online?
Right now were working on new material. We have 2-3 songs completely finished and another 3-4 that were working on. We are shooting to get back in the studio to record within the next month or so and plan to have a new EP out before the end of the year. We haven't planned a tour but I imagine we'll be setting one up to promote the new EP. Until then we'll be playing one-off shows here and there until we finish the EP. The best way to keep track of what were doing is our facebook page or on our website
Some bands simply want a creative outlet, some want to be a leader in their genre, others want to be mega-famous and take over the world. What would you say is your ultimate goal as a band?
Ultimately we want to get to the point where we can make music our full-time career. Artistically we want to keep making better and better music that spreads to the widest audience possible. We want to become as popular as we can while still maintaining creative control of what we do. These days you have to be very careful about walking the fine line between being popular, but also having control over your music. We were recently offered a publishing deal from a subsidiary of a very very well known Fortune 500 company. When we got the contract, they wanted control of everything we do for the next two years, as well the rights to re-record, change lyrics, remix, and change any of our previous material without restriction. None of which they had mentioned in multiple meetings we had with them. We politely told them to go fuck themselves. 
 Great White Buffalo – "Thanks For Nothing"

Comments
comments