Favorite Band: The NationalFavorite Artist: Basquiat.
Latest posts by Aubrey Bowman (see all)
Artist: Annie Preece
City/State: Los Angeles, CA
Website: www.anniepreece.com 
 Art saves lives, and Annie Preece is evidence. She amazingly managed to abandon a desolate life to not only overcome dire circumstances, but to capitalize and flourish in an unlikely second chance at life. Through persistence and an ironclad will power, she has risen from the skid row gutters to become one of Complex Magazine's "10 Los Angeles Street Artists to Watch."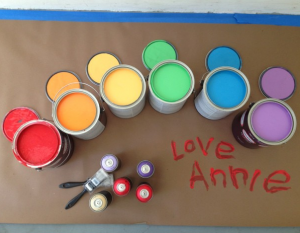 Improbable is a good word to describe the chances of breaking into the L.A. art scene.  Impossible would be a word suited to describe doing so under the chokehold of a deadly dependence on heroin and cocaine. Preece courageously accomplished both improbabilities—surmounting her affliction and transforming a brutal, life-threatening addiction to drugs into an industrious and prolific addiction to color.
 Color runs her life now, and she is not afraid to show it. Her work may be comically described through the words of my good buddy's humorous, not-so-sober rant on the décor of the Saguaro Hotel in Palm Springs, "It's a Technicolor nightmare—a real shit show of color. It's like a unicorn shat all over the place." That depiction is in good jest, of course, as all her work is technically sound, visually pleasing, meaningful and delightfully colorful. 
 Most of Preece's paintings mirror her cheerful, comedic personality. They have a twisted sense of humor, but they're bright, playful and fun—often displaying the likes of fantastical unicorns, pink elephants, flying pigs and sinister octopuses. Conversely, several of her pieces explore the nightmarish disposition of her former life with faces personifying fear, paranoia, grief and despair. Some of the works are more serious than others, but they are all seriously good.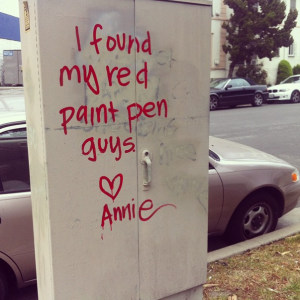 Beyond her canvas and mural work, Preece can often be seen scribbling witty, entertaining graffiti one-liners, such as "Sorry about all the graffiti," "My butt itches," "I found my red pen guys" (written in red marker) and "Have a nice poo" (on a bathroom stall).
 If Instagram and social media are any valid reflection of our lives, Preece seems to be in a perpetual state of having a good time, whether she is working—as it seems she is always doing—or if she is out socializing with familiar faces like Retna, Gregory Siff, Craola and Tara Reid to name a few from her feed. To further delve into her strange and wacky world, she can be seen regularly sporting a full unicorn mask in rather unlikely locations. For that alone her Instagram (@anniepreece) is a recommended follow.
 Preece signs her paintings and graffiti with her signature tag "Love Annie," and love is apparent in her life and work—love for color, love for creating, love for living and love for an action that truly saved her life. If you appreciate love, enjoy having fun and like good art, you can find it with Annie Preece. 
Where are you from and how did you become an artist?
I'm originally from the San Francisco Bay Area. I grew up in a family of artists so I've always been encouraged to be creative. At about 16 I started becoming involved in graffiti because my boyfriend at the time did it. The boyfriend and I parted but the love of street art and graffiti stuck with me.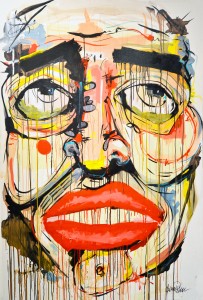 Becoming a professional artist involves overcoming many obstacles, especially in your case with your fight against addiction. Can you tell us about the personal and professional struggles you have conquered to create your spot in the art world?
I struggled for 15 years with a horrible heroin and cocaine addiction. I was homeless and in and out of prison and treatment centers for half of my life. A few years ago I was homeless on LA's skid row and on my deathbed. I knew I had to change or I wouldn't live another week. I had a moment of clarity; I was worth more than this. I am an artist. I was born to be an artist. I cleaned up and never looked back. Today I use that same passion I once had for drugs and have redirected it into my art career. I think if anything, my addiction has helped me. As far as it affecting my career, I'm not sure if it has aside from giving me this drive to create. No one has ever seemed to judge me for it. I just know for a fact that art has saved my life. Literally. If it wasn't for art I'm not sure if I would have found the strength to get clean again. 
You have become a premiere L.A. street and graffiti artist in a scene that is often male dominated. What is that like, how have you risen above that and how have you used that to your advantage? 
Girl Power! Yes it is for sure a boys club. There are far fewer women in the scene and even fewer that have made it into a career. I feel very fortunate to have the notoriety I do here in LA amongst some heavy male hitters. There is some pride in that for me for sure. It has helped me and hurt me at times. I often get put into the category "female street artist/muralist" as opposed to just "artist" in some situations. That has worked both for and against me. I've gotten told that I can't be in a show because it's an "all men's graffiti show" but I could be in the "women's graffiti show" which never happened because there is so few of us. When I first started out I feel like I had to work twice as hard as the boys because I had something to prove. Nowadays I think my art and my accomplishments outshine the fact that I have a vagina.  
Your Instagram photos suggest that you are always enjoying yourself. How do you stay positive and happy in a chaotic and competitive art world?
Smoke and mirrors. Jk. I'm pretty happy. I honestly try not to compete. When I start comparing myself to other artist and their careers is when I get funky. There's always going to be someone that's a better painter and more successful, how can you not get bummed if you compare yourself to that? That's why I just do me. I try and try not to concern myself with the art world politics and who's got more shows or press or whatever. Anyway, yes it can get very stressful with deadlines, shows, commissioned work, etc., and I have full on freak outs about it, but at the end of the day I remain grateful because this is part of living my dream. It's a lot of fucking work! However, I'm very happy and blessed to get to do what I love for a living regardless of all of the hard work. I think it's important to keep a sense of humor about it. I just don't take myself too seriously.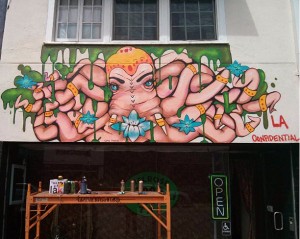 Your work is very playful, often fantastical and always just plain fun. What goes through your head when you are coming up with ideas for a painting?
I love fun art! I don't know what goes through my mind I just know that painting ridiculous stuff makes me happy. Like I said before, the art world can get very serious and the reality is, it's not that serious. Lighten up a little people. I like looking at a painting and smiling. I think that I have a pretty good sense of humor and it comes out in some of my paintings and murals. I'm also easily amused. Unicorns are so stupid that they're awesome. 
How do you approach a canvas differently than a mural, and do you prefer one over the other?
I usually use spray paint on murals but I never really know what I'm going to paint. That's true for canvases as well. No sketches, I just paint. I like doing murals because it's fun to go big. Plus I find that I can be a little more silly with murals because they're not going on someone's mantel in their Beverly Hills home so unicorns shitting rainbows and cactuses wearing mustaches are fun. When I paint canvas I usually think too much. I find that all of my best pieces were done when I didn't think too much about the piece, if that makes any sense. 
Some of your graffiti is very SAMO-esque. Is Jean Michel one of your inspirations, and what other artists, past or present, inspire you? 
Everybody loves Basquiat. I know this will sound crazy but I actually stick to my own style and I feel like it's pretty unique. Sure many artists have inspired me but I do not try to replicate their style. Wayne White is an artist that I admire very much. Anytime I see an artists work that I admire it just pushes me to work harder and get better at painting. I went to Basel last year and it really pushed me to grind. 
It looks like you've been doing some cool projects like the X Games ramps. What other projects have you been working on? 
I've been doing a lot of really cool stuff lately. Yes, I painted ramps at the x-games, I did an ad for Metro LA busses, which will be out by the end of the year; I have a line of t-shirts; I'm doing an ad campaign for Pabst Blue Ribbon; lots of charity shows; commissions; lot of press lately; Basel is next. The list goes on and on. Some really incredible stuff lately and in the near future. It's really been an amazing year for me.
You've done a fair amount of collaborating with other artists? What do you like about that process, and who are some of the artists you've painted with? 
I love collaborating with people and I really haven't done it enough. Mar, Greg Siff and I worked on an installation together. Mar and I also just painted a rainbow mural together as well. Right now I'm working on a painting with Thefl. Hopefully more collabs in the future. I think it's an interesting process. Several minds working on one image. I'd love to do one with Wayne White. 
You can often be seen wearing a unicorn mask (and painting them)? What is your affinity for this mythical creature? 
I love unicorns simply because they are stupid and hilarious. I crack myself up when I wear that mask. I'm known as "the unicorn artist" in LA now and that's totally cool with me. Hahaaa
Comments
comments