Favorite Band: The NationalFavorite Artist: Basquiat.
Latest posts by Aubrey Bowman (see all)
Artist: Andrew King
City/State: Salt Lake City, UT 
Website: www.heartofgoldtattoo.com
 Bookshelves filled with rare and obscure books line the walls of Andrew King's home office. They wait patiently to tell their story. King is happy to jump right in and share their narrative. There's a box full of old spray cans haphazardly collected in a cardboard box eager to reminisce on King's days as a graffiti writer. I want to sit and chill in this room for hours, browsing the shelves, peaking into King's world and talking about art and music over a cold bottle of beer.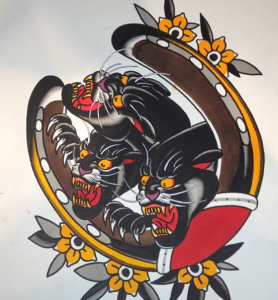 King, of Heart of Gold Tattoo in Salt Lake City, has a thoughtful, analytical mind. He's a tattoo artist and a tattoo parlor philosopher. He's a painter. He has a scholarly love of hip hop unrivaled by even the biggest backpack rap nerd. And most importantly, he is the beholder of one of the nation's finest beards.
 Sometimes it's hard to separate an artist's work from his or her image and personality. It's easier to like bad or mediocre art created by a good person than to like good art made by an asshole. In King's case neither is a worry. He is a really good dude who makes really good art, which makes it difficult not to want one of his pieces—even for a guy like me who has no ink.
 King's attitude and disposition are golden and his work epitomizes classic tattoo beauty and imagery. He is not exactly blazing any trails when it comes to tattooing; he simply sticks to what's good, which seems to take discipline and restraint, and the payoff for keeping it that classy is big.
 An appreciation for the forefathers of any art form—painting, music, dance, acting—seems like a fleeting thing with the younger generations. King's admiration for tradition certainly is the opposite. He has a great appreciation for those who have come before him, those who are his contemporaries and those who will come to be.
 There is no pretense with King—no celebrity-tattoo-artist drama. He's a blue-collar tattoer content to show up, punch the clock and make cool tattoos that he would want permanently inked on his skin.
 The colors and immaculate line work are what draw me most to King's tattoos. They look like tattoos should look, which seems simple to say, but I'm sure it's much easier said than done. His work is not too simple; it's not too complex—not overdone, not underdone. It's just right…
 King is available for custom and/or pre-designed work at Heart of Gold Tattoo in Salt Lake City.
Can you tell us a little about what it was like growing up as an artistic person in Salt Lake City?
You know, the way I grew up wasn't something I had thought about 'til I had met people that had a lot more than me and my family. I didn't realize it wasn't normal to live in a one-bedroom apartment with three siblings and my mother. Growing up in Salt Lake with a family that is all from back east was different for sure; we're kinda loud people, haha… Anyway, my experience here differed from the norm not because I was artistic, but because I've always been different—and an outsider here. Not by choice, my family is just different than the average Utahn, people are not super accepting or open to new or different things here. So I think the lack of understanding for those around and FROM those around me made me want to explore other things outside of what I already wasn't a part of. So I drew, I spent a lot of time alone drawing and playing, and I think that helped me become more creative and helped me develop my imagination more.
When did you start tattooing and how has your career as a tattoo artist evolved? 
I started tattooing 5 years ago, I think my art evolves as I evolve—grow and change—I think I continually evolve and progress just by continually doing what I do.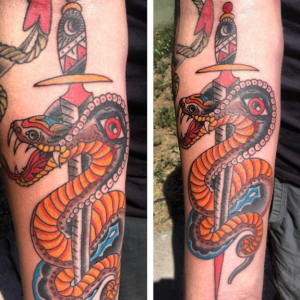 You have a very distinct, classic style. What draws you to the old school style of tattoos, and how did you develop it to become your own? 
I honestly want to do tattoos that I like to look at and want to wear; I also want what I do to be recognizable for what it is. I don't want someone to look at tattoos I do and ask what they are. I want people from all walks of life to be able to understand what it is they're looking at, whether they like it or not. My first goal is to have my idea conveyed. And the reason for that is because of the people that have come before me—that's something I think is undeniable in all great tattooers work from Hardy, Horiyoshi, Roberts, Lehi, Sylvia, Garver, etc.
What art do you do outside of tattooing?
I like to paint a lot; I have been trying to make paintings that conform to the same principals as my tattoos, but I like doing things in these paintings that can't be done in tattoos.
Can you tell us a little about your affinity for collecting books, and how you use various books as source material to create art that is thoughtful, symbolic and deliberate?
I LOVE BOOKS! I try to use my reference material as honestly as I can. I try to stick to the three T's—Tradition, Transmission and Transformation (or the Shu Ha Ri). By abiding, naturally, to this I think I am not just taking, I am attempting to keep the cycle unbroken so that I can give back as much if not more than I take.
Who are some of your favorite tattoo artists?
Ed Hardy, Horiyoshi III, Bob Roberts, Jack Rudy, Greg Irons, Tim Lehi, Scott Sylvia.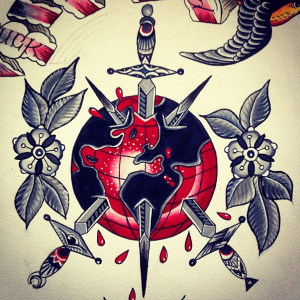 SLC has a large tattoo culture that is often surprising to outsiders. What is that scene like, and how did it become so popular in a place so influenced by the Mormon Church? 
You know this place is the land of extremes. If someone is Mormon, they're typically waaaaay Mormon, and if someone isn't Mormon here, they're waaaaay on the opposite side of the church. I think people are so proud to "be" whatever it is they "are" here that they get upset if people aren't paying attention to them for being and/or doing whatever it is they are going for. I wasn't raised LDS, but I can see how the church has completely affected the social landscape here, and I'm not saying that's a bad thing or a good thing; I'm simply pointing it out. So I think the "counter culture" here is pretty extreme and tattoos are a part of that. I think it's a good thing and a bad thing at the same time, but either way I love it here!
There is also an underground graffiti scene in SLC, and you are graffiti lover. What is your attraction to graffiti and how does that scene tie into the tattoo scene? 
If it wasn't for graffiti, I wouldn't be who and where I am today. I can go on and on about the existential reasons for why I love graffiti, the socio-political reasons, the artistic reasons and the juvenile-need-for-attention reasons, but I'll spare you the lengthy ramblings…Graffiti gave me a sense of self and that in turn led me to tattooing.
You are also a big hip hop head. What's on your playlist right now, and how does music play a role in your art? 
I have been bumpin' lots of the pro era stuff ie. Joey Badass, CJ Fly, Capital Steez (RIP). I've been bumpin' a lot of Ab Soul, Alley Boy, Big Krit, BDP, Big L, Kool G Rap, that new Jigga album…I have been into Junip, Witch, Earth, True Widow and Neil Young lately too. Music is awesome. I wouldn't be able to create anything without music. I love all forms of art; we're all just trying to fit our patterns within the pattern of life and our patterns consist solely of what this pattern of life is. We're all trying to express what we see and feel while spending our time here and I appreciate it all; everyone's story is worth hearing.
What can we expect to see from you in the near future?
Progression is the law of life, constant progression.
Comments
comments