Favorite Band: The NationalFavorite Artist: Basquiat.
Latest posts by Aubrey Bowman (see all)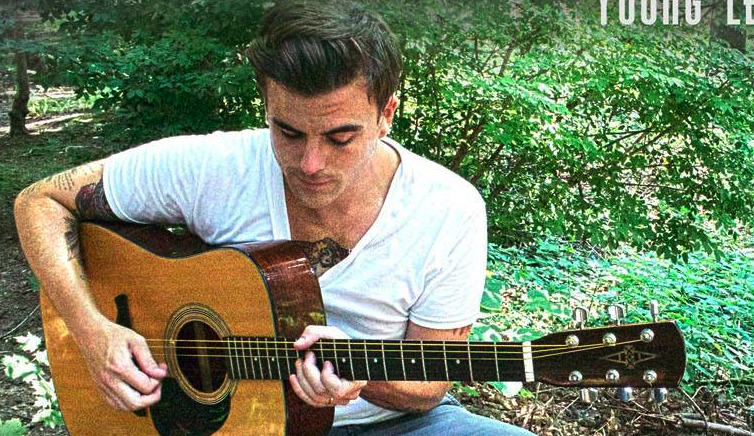 I went to an Anthony Green/Brick + Mortar concert by myself last weekend, which allowed me a little personal time to discover some great new music, rekindle my unashamed affection for Anthony Green, explore some of the weird corners of my brain and I fell in love twice (actually, three times). 
 Anthony Green is a polarizing figure. There's no middle ground. He's one of those love 'em or hate 'em guys with all sorts of strange folklore surrounding him about mental breakdowns, substance abuse and asshole tendencies, but who cares. We all have our quirks. I'm gonna stay on the love 'em side. Regardless of whether you love him unquestionably or you absolutely love to hate him, he has put together an impressive catalog of solo material, and he puts on a hell of a show. He writes and performs emotional, bipolar songs ranging from simple and direct to complex and abstract. The songs translated perfectly into a live show for me, and they gave me a great opportunity to lose touch with reality and cuddle up with my emo side.
 I've always had this peculiar habit of falling in love from afar at shows. Somehow, I've always unintentionally singled out one particular girl in the audience of just about every concert I've ever been to. It's more of a fantastical, two-hour enamoration with the idea of being romantically associated with the free-spirited, concert-going, indie-rock/punk girls you often see at these shows—sort of akin to Rob's superficial and fraudulent relationship with the leather-jacket-rocking Charlie Nicholson in High Fidelity. 
 Number one on my top-five list of "Concert Girls Who Got Away" was an over-the-top punk rock girl at a NOFX show. She weighed no more than ninety pounds but could mosh better than the 43-year-old, sweaty, stringy-haired, belligerently-drunk dude in the black, leather Minor Threat jacket present at every punk show. But I digress…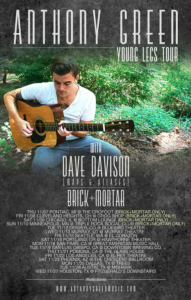 The Anthony Green/Brick + Mortar show was no different than any other. For a brief moment I thought I was falling for a beautiful brunette—a nice girl who looked like she had her shit together, but might possess the correct amount of emotional damage to be worthy of my two-hour affection.
 Unfortunately, this did not last very long; I had to end the ill-fated relationship when she could no longer hold in her disgust for Anthony Green's liberal disbursement of screaming in "songs that don't even have screaming in them." After every song she insisted on yelling, "No more screaming," directly at a man who was partially responsible for the emergence of Screamo music—this is the dude who sang for bands like Saosin, The Sound of Animals Fighting and Circa Survive. Personally, I enjoy a well-placed scream, and you can't realistically expect Anthony not to fall back a little on his emo roots and let out a little shrieking angst. Hilariously, this girl actually had to excuse herself from her group of friends during the middle of the show and disappear to a far away, scream-free zone.
 This really ruined my fantasy of leaving the show with this strange girl to share a cup of organic, fair-trade coffee and vegan cupcakes at one of those indie coffee shops I love but am always way to intimidated to go into. Like Rob describes the aforementioned Charlie Nicholson when she would speak, I would sit quietly as she would say "remarkably interesting things about music, books, films and politics." Oh well, love is fleeting and I don't much care for vegan cupcakes.
 Alas, when one door closes another opens. Soon after this traumatic break up I quickly recovered and found someone worthy of a top-five list. She was a cute, little twenty-something blond who was very bouncy—not in a buxom sort of way—she just jumped around a lot and liked to dance (especially when Anthony would scream). Finally I could enjoy the show, and resume my optimistic hope of one day sharing coffee and cupcakes with emotionally-unstable, indie rockers…
 I was now primed for a moment of self-realization. What was really happening, what I was really doing, was falling in love with live music again—enjoying the subtleties of rock and roll being played in a small, dimly lit room: The loud music. The ocean of sweaty strangers sharing a moment. People dancing and singing together, some simply nodding their heads and some standing with arms crossed not confident enough to know what their bodies should be doing. The hipster guy begging for laughs yelling ironic "I love yous" and "I want to party with yous" to lead singers. Girls losing their shit over gyrating men. Cold pints of overpriced beer. Meeting eyes with someone you've never met but knowing you share something in common with each other. Being in a place more socially acceptable than naked in the shower or in your car with the windows rolled down to sing along to your favorite songs at high volumes. Discovering new songs to get naked to and sing. It's great, and it's why I love music.
 Live music is the music fan's nirvana. I love everything about it—except for tall people. I don't like tall people. After this article, I'm going to draft an open letter to all of the tall people at shows who feel the need to get in front of the vertically challenged just to lessen the physical gap between them and a band they could see from any area of the venue. Because of this I have watch half of every set through whatever oversized phone they are videotaping every song with.
 I am slightly bitter about this; however, I do have to thank you, tall people who feel compelled to be directly in front of me and for partially blocking my view at this show, because it gave me the opportunity to find some great doppelgangers in the crowd. I found a Justin Vernon of Bon Iver, one of those bearded dudes from Duck Dynasty, a gigantic version of that singer from Mumford & Sons and a real-life version of one of those goth kids from South Park who was really good at flipping the long, frontal patch of hair away from his right eye. I'm also pretty sure Charlie Day from Always Sunny is the drummer for Anthony Green's backup band, Good Old War.
 Progressing past my neurotic thoughts and observations, this concert was fantastic. The show presented a rare trifecta of good sets. Anthony Green set aside the approach of lining up lesser quality bands that he could outshine. He actually set up some great complimentary acts that shined quite bright on their own.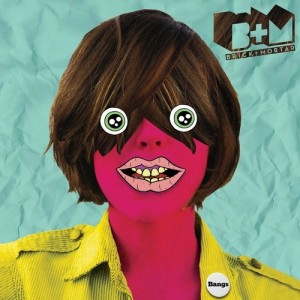 Admittedly, I'd never heard a single note from either opening band. I knew Brick + Mortar would be good from Photo Finish Records' enthusiasm for me doing a review of the band, and I'm an Anthony Green fan so I knew I'd enjoy him, but Dave Davison was a wild card. 
 When I walked in to B+M playing I wasn't sure what I was looking at. My ears weren't sure what they were listening to. Two men appeared to be apart of some modern-day, Vaudevillian carnival act, one, a bit of a Claudio Sanchez, of Coheed and Cambria, look alike. Singing much like Claudio, he constantly switched, mid-song, from a guitar to a bass. The other was very enthusiastically pounding away on a small set of drums mouthing every lyric. There was also some third, convulsive, electronic presence on stage preprogrammed to pump out some rather boomin' beats that nicely complemented the live instruments and singing. The music and the lyrics were quite good and delivered a rather uplifting, optimistic message.
 I couldn't help but enjoy the weird world of B+M, and I applaud their unreserved and passionate performance as well as their uncanny ability to involve the crowd. The pinnacle of crowd participation came when lead singer, Brandon Asraf, busted out a well crafted, light-up sign shining the word "HEY." He then successfully instructed the crowd to yell, "Hey!" every time he speared the thing in the air. This lasted, impressively, for several minutes. They also ended the show convincing the crowd to chant the band's name so as to make them feel better about returning to their day jobs as movie ticket takers and trash men, which I hope was a joke because I hate to see people this talented wasting their time on shitty, minimum-wage jobs. Overall, the whole set was a unique musical experience that I enjoyed thoroughly. My favorite tracks were "Move to the Ocean" and "Bangs."
 The middle set was a big surprise for me. I didn't know about Dave Davison. I'd heard his band's name, Maps and Atlases, but I had never heard any of the music. Dave played a solo set with a little late help from Good Old War. The majority of the set was just him, a pink, semi-hollow body Stratocaster and a microphone in front of a brick wall covered in white Christmas lights, and he killed it. He crooned out several emotional, bedroom rock songs that were arranged to be mesmerizing and fun as a live performance. He really took over the room, captivating the entire audience and generating a cool vibe with a super raw performance. This guy can straight up sing, and he has a truly unique voice. I'm ashamed to admit it, but at one point I actually thought to myself, "Damn, this dude should be on NBC's The Voice." However, I'm not ashamed at the thought that with his dark, wide-rimmed glasses and long hair he would look like a blond, folky version of Skrillex if he shaved half of his head. That is still putting a smile on my face.
 Anthony Green's performance was what I thought it would be and more. It was very emotional and expressive. As expected, Anthony has no problem letting go of control and losing himself in a fit of screams and flaring extremities while still maintaining the delivery of beautiful songs. You can tell how much he connects to his songs and how they still affect him every time he performs them. It's contagious. It makes you want to lose control yourself and be in that moment. It's another truly great thing about live music. Being there lets the music bypass your ears and enter straight to you heart and soul.
 The set opened with an explosive version of Babygirl that set the tone for the duration of the show. Good Old War backed Anthony for the entire set adding a great compliment to the performance. They are an astonishingly good band that can play their asses off and somehow match Anthony's energy—the kind of crazy energy you find traces of on credit cards and rolled up dollar bills. I seriously don't know how he does it night after night, but his passion and liveliness are something else. The jams kept coming throughout the night with a nice mix of songs from all three of Anthony's solo albums. The highlights of the show for me were When I'm On Pills, Breaker, Stonehearted Man and Get Yours While You Can.
 He finished the show with an epic, four-song encore ending nicely with Dear Child (I've Been Trying to Reach You), but my favorite moment was while he finally gave everyone what they were yelling for from his Saosin days, Seven Years, and some bro in the audience flicked him directly in his nipple. This basically shut down the song and caused him to cringe, back away from the mic, turn around and punch the air in agony. After the song he gave a hilarious rant about how sensitive his nipples are and how much of an asshole the bro was—understandably so. I commend him for shaming this douche and for giving us one more song after what could have been a show-ending nipple injury. Good times.
 Again it was a great show and a great time. The moral of the story I walked away with was to go to more concerts, enjoy more music, take a moment to take it all in, lose yourself and do whatever the fuck it is that makes you happy—just try not to be so tall, chill out with the phones and please don't flick Anthony Green's nipple. He doesn't like it and it fucks up his screaming…
Shout out to Photo Finish Records for the hook up on the tickets!
Comments
comments