People who make music out of pure passion, this is what I find truly inspiring.
Latest posts by Jon Berrien (see all)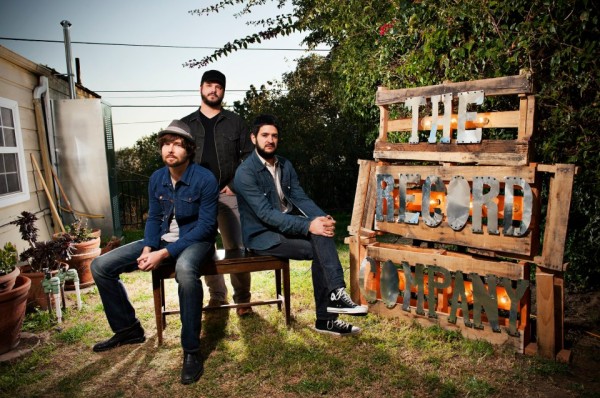 You can never go wrong with some good ol' rock and blues. With that said, you can't go wrong with LA based band The Record Company. They blend the best of both genres, and to confirm what we already know, the fellas have a new EP Feels So Good.
GroundSounds recently caught up with frontman Chris Vos to discuss their latest project and more. Check out the exclusive interview below.  
For those just discovering The Record Company, how did you guys get together and form the band?
Alex (bass) and Marc (drums) had been friends for a long time and played together in other bands in the past. I came into the picture about a year after I moved to LA from Wisconsin. The hardest part of coming to LA was to find musicians who shared my taste in music. Out of desperation I put up a list of influences on Craigslist in the hopes of finding some people that shared my tastes. Alex saw my list and we became friends based on that, and then I became friends with Marc. We hung out for about a year just listening to old records and jamming on weekends before the idea to start the band really happened. The idea finally came to form a band together while listening to a John Lee Hooker record called "Hooker N' Heat."
How did you guys decide on the name The Record Company?
I have to credit Alex with that. We had been writing and recording for a couple of months with no name. Their is nothing quite as humiliating as trying to name a band, we all came up with some really terrible terrible ideas. One evening Alex sent me a text saying "I have the name for the band." At this point I was pretty sure we were never going to find a name, so I coyly responded "What is it?" He said, "The Record Company." I wrote back immediately saying, "Done!" I assume Marc agreed, as that is what the band's name ended up being.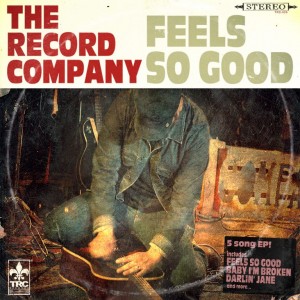 Can you tell us about the creative process and inspiration behind your latest EP Feels So Good?
As far as the recording, we wanted to keep it simple and raw. We do all our own recording and mixing, so we were able to control that. The songs on "Feels So Good" were all written in different ways. They could have started as a drum beat or a melody, others from ideas on stories we'd like to tell. They all came from the 3 of us hanging out listening to albums we love. Trying to be simple, honest, and true to what we love.
What is it about Rock & Blues that attracts you guys to this sound?
We love the pure emotion, great songs, honest recordings, and the raw power of people like John Lee Hooker, Jimmy Reed, Muddy Waters, Howlin' Wolf (etc).. and bands like The Rolling Stones, The Stooges, The Kinks, The Grateful Dead, The Who (etc)…
Can you tell us a little bit about the Grateful Dead covers project that you guys are working on? What songs are you guys covering?
Last year we did a cover of " New Speedway Boogie" and it got featured on the The Grateful Dead's website. It was a big thrill for us. This year, we did a version of "Brokedown Palace," live in our living room. Marc was on Piano, Alex on Drums and Ukulele, and Myself on Pedal Steel and Vocals which was a different configuration for us. We also brought in a couple of friends (Rosa and Maesa Pullman) who did a tremendous job singing on it.
What do you guys enjoy most about performing live?
I don't know if their can ever be one thing about it that stands out. The fact that playing live is different every time, that the energy of playing is hopelessly addicting, connecting with an audience is intoxicating, and letting go of all the things you are carrying around all day through music is something that cannot be replicated in any other way that I've found.
Can you tell us about the writing process and bringing your track "Baby I'm Broken" to fruition?
That song started with a drum beat, a bass line with a lot of space, an idea for a harmonica part, and a want to use a fuzz guitar sound. The story came from things we were all kicking around as a result of wanting to write a song that had a lyrical content that reflected the sound we were getting. Sometimes lyrics come first, in this case they came after the overall sounds of the instruments were coming together.
What do you guys enjoy most about Los Angeles?
It is vast in it's variety of art, culture, landscapes, food, and neighborhoods. You can go from the Ocean, to the Mountains, to the Desert in one day, that is as long as you know how to avoid rush hour.
Could you share some life advice with us?
Hahaha ok, here it goes. Always play like it's one less time in your life, not one more.
What's next for you guys? What are you currently working on?
We will be releasing a full length Vinyl through Kill/Hurt label in March. Locally the next show we are playing is at The Hotel Cafe on 2/28 at 10pm. We will be touring this spring and summer as well, all dates tba soon.
You can PreOrder a limited edition 180-gram GOLD vinyl of "Feels So Good EP" via Kill/Hurtrecords. It features an ultra-rare B-Side containing 3 unreleased, extended-length jams recorded specifically for "late-night listening sessions." Hand-numbered (out of 500) and comes w/ free 18X24 poster! Pre-Order Here
SHARE THIS FRESH INTERVIEW WITH THE RECORD COMPANY!
Comments
comments