People who make music out of pure passion, this is what I find truly inspiring.
Latest posts by Jon Berrien (see all)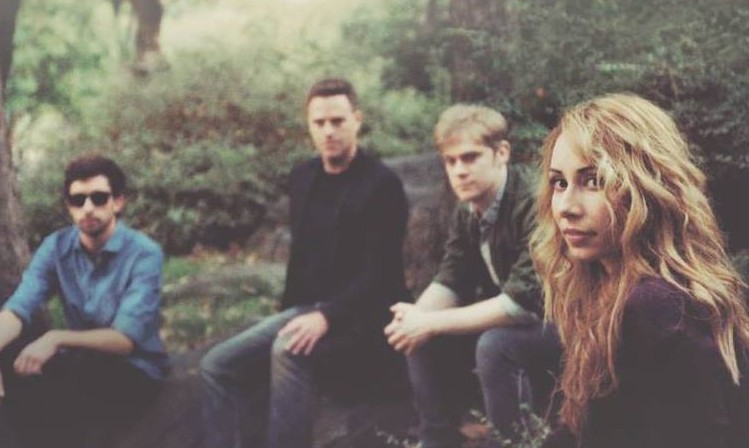 American pop-rock band The Strange Familiar have been on the grind, creating fresh new tracks for your listening enjoyment. Their album The Day The Light Went Out will be dropping April 15th.
 Luckily, GroundSounds has the album ready to stream in advance!
Streaming exclusively for a week, check out The Day The Light Went Out, along with an exclusive interview with The Strange Familiar below.   
For those just discovering The Strange Familiar can you tell us about forming the band and how you guys started making music?
Jeff & I (Kira) actually started performing together back in the 6th grade! We were writing and performing for various bands through the years and just kept at it. TSF formed more organically than our other projects – our bassist Frank freeman was quitting his band of 3 years. Jeff & I were moving on from ours, and our paths crossed at a gig in downtown Akron. We just hit it off right away. Before we knew it we were leaving town and moving to Los Angeles as a trio. Nicholas, our drummer, who is also from Ohio relocated to LA around the time we were auditioning new drummers. He didn't even get a chance to rehearse our songs when he came to audition, but as soon as we played one song together we knew he was the right fit. Since 2009 this has been the group. Lately we've gone through some serious life changes – Frank graduated from Harvard, Nick is finishing his Jazz Performance degree, Jeff & I had a child! Yet we all still make time for the band. I love it! TSF has really grown up these last few years. Every time we get together it's kind of like a family reunion.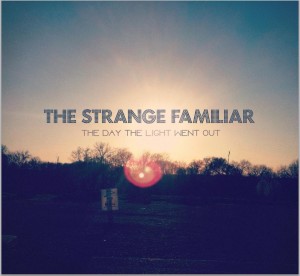 Can you tell us about bringing this upcoming album The Day The Light Went Out, to fruition? 
Our last release in 2012, "Chasing Shadows", was more of a singer-songwriter album. TDTLWO takes things a step further.We started co-writing a song, "Gone", with a production duo in Santa Clarita, CA. The song wasn't originally intended for The Strange Familiar, but the demo just sounded so good we had to put it on our album. That song made us see our music in a new light (pun intended), and helped to shape the production for the rest of the album. Some songs were written over the course of a couple years, and others were finished at the last minute. We're really happy with how everything came together. I feel like it has a lot more energy and our lyrics go a little deeper and themes are darker than our last album. We are so excited for our fans to hear it!
How did you guys decide on the album title The Day The Light Went Out?
We recorded a demo of the title track at 3am the night before we flew to LA to record the album. At that point we didn't even know if it would end up on the album because all we had was a very rough demo with lyrics that were ad-libbed. I knew the song was special, and what I wanted the lyrics to say, but I was struggling to find the right words. Our producers saw our vision and believed in the song. So, on a day off from recording I finished the lyrics while watching the sun set in a beautiful little Danish town called Solvang. It was a perfect California day and just the right magic I needed to find the words. There 's something very honest and heartbreaking about this song. There are themes of loss and pain, grieving, and finally surrendering and perseverance throughout this album, and "The Day the Light Went Out" is a culmination of all those themes. It is about the darkest day, the greatest tragedy you could experience, but out of that darkness comes hope. That even when the light goes out, the sun will rise again.
What music are you all currently listening to?
It's crazy – but I don't listen to a ton of music, and I am really bad at finding new artists (I usually leave that to our drummer, Nick). Speaking of… Nick says he's been listening to The Head and The Heart "Let's Be Still", Jake Bugg "Shangri La", and Sleeping at Last "Atlas".
I know it sounds counter-intuitive, but I find it easier to find inspiration from other sources like dancing or reading great books or biographies. That way when I'm sitting down with my music it feels fresh and unique. I do like Sleeping At Last, Imagine Dragons, Coldplay, Avicii, Mumford and Sons and classics like Queen and The Kinks.
What song was the most challenging to finish on The Day The Light Went Out? What was challenging about it?
The most challenging song was probably "And I Wait". We had a rough demo before going to Los Angeles that we wanted to use as a guide. However we became used to that guide track andwere partial to it. So it was really difficult for us to re-think and rearrange that song with our producers, but we're glad we stuck with it! It ended up coming out amazing. Definitely better than it was! I also struggled with the lyrics on this one. I had gotten used to the ad-libbed, random lyrics that I sang on the demo. So it was hard to put together something that made sense. I guess we wrote this song backwards. We had all the music and melodies done, and then we had to put some meaning into it.
What was it like transitioning from Ohio to LA? What do you guys enjoy most about the midwest?
At first, the transition from Ohio to LA was easy! We were in the Akron scene for so long time that transplanting ourselves in California was like a breath of fresh air. We were really motivated and made some things happen for ourselves, even within a few weeks of being there. We networked like crazy and performed at a lot of the clubs in LA – which for a pop band like us was a little difficult – but we still did shows at The Hotel Café, The Viper Room and other popular venues on the strip. After a while though, California became more of a distraction.We were always taking trips to the beach, wine country, hiking,and trying out some amazing new restaurants. We began to really miss our simple roots back in the Midwest. We missed our family and friends a lot. That is really what brought us back to the Midwest. We still keep in contact with all the amazing people we met while in LA, but the pace here is more our style. Plus the location makes it much easier to tour here with major music cities like Nashville, New York and Chicago within our reach.
"Rain" started out as a lullaby for my daughter. Jeff and I are pretty old-fashioned, so we decided we weren't going to find out if our baby was a boy or girl before he or she was born. One thing we did know was that our baby would be named Rayne (or Raine for a boy). I was about 7 months pregnant, and I was sitting at the keyboard humming a melody to some random chords, thinking about this life – this completely unique beautiful person that would be coming into the world soon. Luckily, I decided to record my little ditty, because the words just came out – pretty much as they are in the final version. I wanted to write a song for my child, I didn't expect it to end up on our album. 
The first line of the song, "you are the heart that beats inside of me" was the first thing that came to mind because nothing was more amazing to me than hearing my baby's heartbeat for the first time at just 10 weeks. That sound became more and more precious as my baby's day of arrival approached. It's the only sound I cared about… I just wanted it to stay strong. 
"Rain" is basically me imagining the struggles and sacrifices I will face over the years as a mom, but also all the joys – like showing the world to my child and seeing it all brand new through her eyes. The bridge came together quickly too. Jeff and I were talking about our fears and also all the things we were looking forward to as new parents, and he just jotted everything down in poem form. When we sat down to demo the song, I just ad-libbed the bridge melody and it worked the 1st time through. That doesn't usually happen! 
I hope this song will resonate with parents, but I don't think you have to be a parent to relate. If you have parents or grandparents, or someone who raised you in a loving way – sacrificing and doing all they could to give you the best life possible, then I hope "Rain" strikes a chord. It's about discovering there is something so much bigger than you, something worth fighting for that makes you braver, tougher, and more selfless than you've ever been, or ever thought you could be.
What people, books and places have inspired you guys most?
Jeff and I are Catholic, and our faith influences pretty much everything we do. I read a lot of books about the lives of the saints – especially the mystics – I just find them so interesting. Even if you aren't Catholic or Christian, these people are so dedicated and passionate, it would be hard not to admire them! I love reading the works of Blessed Pope John Paul II. He was such an intelligent man. I also love Pope Francis! He is making a big stir in the world these days! As I mentioned before, when we were writing the lyrics for the title track for our new album, we took a trip to Santa Ynez Valley in California. It is such beautiful wine country with rolling hills and gorgeous weather. The atmosphere is so magical. It is inspiring because you feel like you are almost in a different time, when life was simple.
What do you enjoy most about performing live?
The best part of performing live is when I see a fan in the audience connecting with our song. That's why we do what we do. We want to inspire others through our music!
Our bassist, Frank, had an interesting take on this…  "Performing live is an experience unlike no other, something truly nothing can replace. The way I approach performance has really evolved over the past 10 years. When I first started playing live, it was all about getting past the sweaty palms and butterflies. Then, I started to incorporate more of the performance element – jumping around, jamming out. Within the past few years, however, I realized that much of that performance was too forced. I was trying too hard to be a performer. Now, I find that the best way to perform is to not perform at all. Get into the parts of the song you really like, and just let it happen. If you're really feeling it, others will see… That's performance."
After the album is released, what's next for The Strange Familiar?
Our last album, Chasing Shadows, had a dozen or so really great television placements. We're hoping to land some more big syncs for this new album. Also, we want to get back on the road and play more shows! We aren't your typical rock band that tours constantly. We have band members in different parts of the country a lot of the time, but somehow we always make it work. Now that we have a daughter we'll probably focus more on the Midwest so we can stay close to home for the time being – until she come out on the road with us!
SHARE THIS FRESH NEW ALBUM!
Comments
comments