People who make music out of pure passion, this is what I find truly inspiring.
Latest posts by Jon Berrien (see all)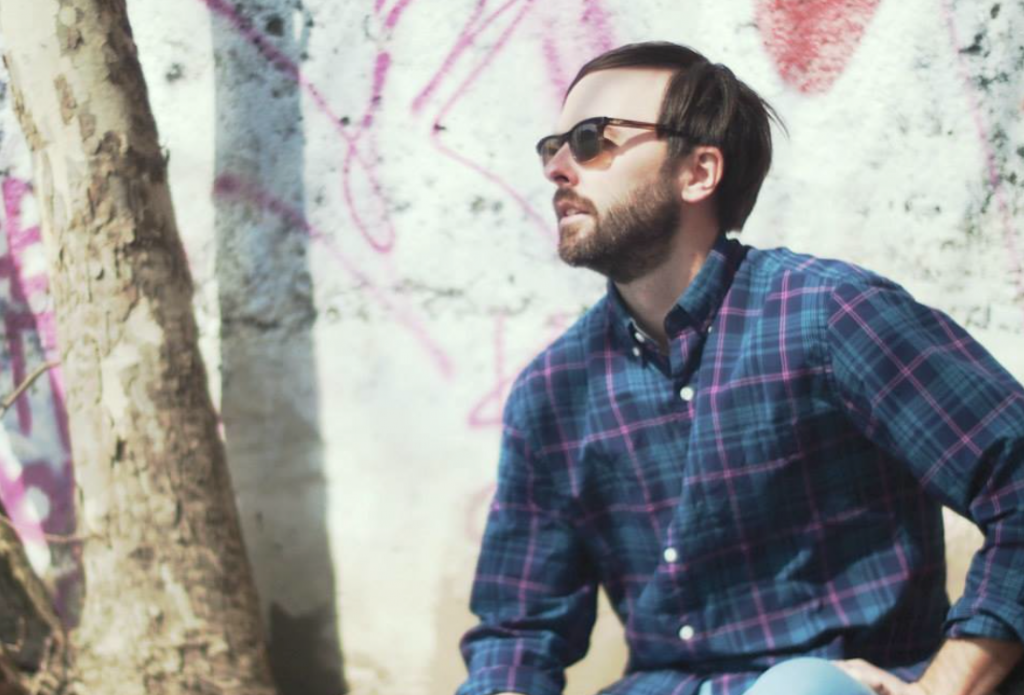 Pittsburgh-based musician and producer Jim Doutrich is the brainchild behind Ennui. Featuring infectious synth-pop beats and hooks, Ennui's latest project 'Telepathic Beat' drops September 23rd.  The album is playful, youthful and will instantly have you yearning for sun-drenched summer days.
GroundSounds recently caught up with Doutrich to discuss his latest project, inspirations and more, check it out below. 
Can you tell us about working on Telepathic Beat and bringing it to fruition?
It was a long process that took me about 3 years. I obviously work slow, haha. The first year was basically spent acquiring gear and learning how to use all of it. Then, I quickly recorded 20-30 demos and picked 10 of those that fit together best. Once I had those 10 or so tracks, I really went to work to make those songs come to life. The final stages were spent on vocals and vocal arrangements which always ends up being the hardest part of the process for me.
Telepathic Beat is your debut as a solo act, how has the transition to a solo act been?
Well, Sam McUmber, who worked on the last album Fomation of Tides with me, was there in the beginning. He helped me accumulate the right gear and set it up. He was also there during the early part of the recording process. But yea, this is the first time that I recorded some of the songs entirely on my own. Its a lot of work and I still love collaborating with people, but in this genre, there's a lot of sitting in front of a computer trying different drum patterns over and over again. I can spend a day just tweaking reverb settings too which can be hard for two or three people to do together day after day. The songs were brought to life in the studio so that's really the way it had to be.
 How did you decide on the album title Telepathic Beat?
That's a funny and somewhat cheesy story. A couple of years ago, I spent a week at the beach and I pretty much only listened to Boards of Canada's Music Has the Right to Children. When I got home and even weeks later, every time I listened to that album, I was transported back to the beach. I told my one friend it's like "Telepathic Beach" or something and he was like "Yo, Tele B, man. That should be your next album title". I obviously changed "Beach" to "Beat" to make the title more in line with the music. The song "Telepathic Beat" is based on this idea of music transporting you to another place or telepathically connecting you to someone.
I'm usually trying to make sure I'm not messing up but recently, I've realized I have to let go a bit and not worry, just focus on making sure the crowd is enjoying themselves
Can you tell us about the writing and creative process for "Summer of Love?"
That was the first song I wrote for the album.  It was sort of inspired by the lead sh-101 sequence in Neon Indian's song "Polish Girl". I started the song with a similar sequence but then ended up getting rid of most of the original parts and letting the song go its own way.
What do you enjoy most about Pittsburgh? What is one thing every visitor should see or do?

Pittsburgh is the most chilled-out city. The livin is easy here. It might not be the best place to be if you're trying to get in the rat race tho. If you're only here for a couple days I would suggest going to Mt. Washington and looking out towards the skyline where the 3 rivers meet. It's a touristy thing to do but really beautiful.
What was the inspiration for your track "Circles?"
The original demo of "Circles" was heavily inspired by Talk Talk's "It's My Life". I definitely had "new wave" in mind. The more I worked on it the more the song morphed into its own beast. The structure is not quite as pop as "It's My Life".
Late 80s and early 90s TV show soundtracks played a big role as well. I'm talking about a pad sound that plays during a dicey moment on 90210. The best
We read that for your new LP you worked with a lot vintage and modern synths, can you tell us a little bit about your production process and how you achieved your unique sound? 
I definitely went thru a bit of a gear obsession before and during the process of making Telepathic Beat. Most of what I do can be done inside Ableton or Logic with software but I'm still really a hands on guy. I like having hardware. I like turning parameters that were designed specifically for the synth I'm using. Just being able to program an 808 and 909 right in front of you is crucial for me as well. I'm not saying I wont change it up next time but for this album, it was my method. I do a lot of sequences and arpeggios and use lots of crazy pad sounds. I also work with midi to write different parts of a song and then I end up sending it out to a hardware synth. Everything is eventually blasted with reverb and delay.
What genre of music do you guys dislike most?
Not sure. I would probably have to go with smooth jazz if I had to pick one. That being said, I could be at the dentist listening to a smooth jazz song and still ended saying to myself "Damn, I should sample that sax line"
After the album release, what is next for Ennui? 
I'm currently trying to finish some videos for songs off of the album. I'm also doing some music for a few other people at the moment. I'd like to tour once the album is released and then you know, time to start the next album.
http://ennuimusic.bandcamp.com/
http://twitter.com/thebandennui
https://soundcloud.com/ennui
Comments
comments