Favorites: Bloc Party, 3EB, Gaslight, Tokyo Police Club, The Kooks, Pete Yorn, Andrew McMahon
Latest posts by Jake Craney (see all)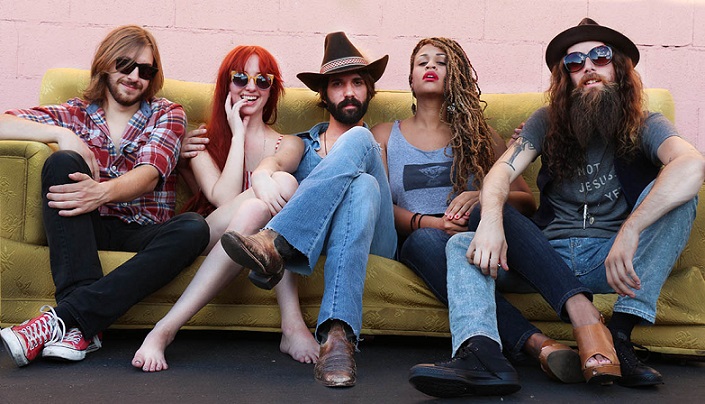 Armed with honest, down-to-earth rock & roll, Ivory Deville are ready to turn heads with their upcoming debut album. GroundSounds caught up with vocalist Johnny Elkins to chat about how the band formed, their live shows, and their debut full-length. Check out the interview below along with their song "Drainpipe" and pre-order the album HERE

How did you all meet and form the band?
Wolf and I were introduced by a friend back in 2008, and then we played in a band together for a number of years…so when that project ran its course, the two of us knew we had a great connection and wanted to continue making music together. And we wanted female backup singers to bring sort of a Shelter People/Exile on Main Street vibe, so I made some calls and in about a month, we were in a van on a two-week tour and we were called Ivory Deville.  We've had a few lineup shifts since we started, but everyone involved has been great and talented, and we've had a blast so far. 
What was the first song you wrote together?
If I remember correctly, it was "The Shaker" and it was written before the band was ever formed – we even tried it out on stage a few months before Ivory Deville existed.  Wolf and I made a rough demo of that one and White Lights, and I've got to say, I still enjoy those recordings a lot. 
Can you let us in on the story behind the name Ivory Deville or is that a band secret?
The universe just told us that was the name – we're still in the process of finding out why. 
"Drainpipe" is one of the most fun songs I've heard this year. What inspired the track?
Thank you.  That was probably the first track we wrote after we actually decided Ivory Deville was going to be a thing. I remember listening to a lot of early Elvis, and Leon Russell, and Bob Dylan, and also wondering what sort of difficulties we'd encounter in starting a new band from scratch.  A lot of things were changing for us as individuals around that time, and it required a long, deep breath. But, it was also refreshing to have a clean slate and to get rid of some mental baggage, and I think you can hear all of that happening in the song. I still don't know what some of it means, but I like it. 
Tell us a little bit about your upcoming self-titled album. How long have you been working on it and what was your goal for the sound/style of the album?  
Sure – most of the songs we recorded had already been a part of our live set, so it wasn't much of a stretch for us to go in and track them.  We spent about 4 or 5 days recording and drinking a lot of cheap yellow American beer, and in that time, captured ten solid tunes. There's not a song we wish we'd left out, you know?   Sonically, our goal was to retain an organic and slightly grainy feel, but still be punchy and relevant. It's easy to get romantic and say "well, let's make the album sound like it was recorded in 1959 but written in 2014." A large part of me thinks that would be satisfying and comparable to time travel, in a way. But the reality is, we're living in a different time and we have different tools and experiences, and we have our own story to tell. 
How was your experience working at Barbershop Studios?
We had a blast. It was really easy working with Scott Barber. I think he ended up getting a great sound, and he didn't even try to cut our hair. 
I've yet to see you perform live, but from all accounts, it's a really good time. What is your favorite part about performing on stage?  
Connecting with others and achieving elevation.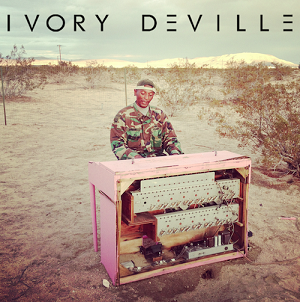 Do you have a favorite song to play live? 
For me, it's probably still "Drainpipe."  We've sort of adopted it as our theme song, and it usually seems to make people quite happy. Plus it has clapping, and everybody loves a good clap-along.
There's a great sense of "good old fashioned rock-n-roll" to your sound. What bands/musicians inspired you growing up?  
My dad had a stack of great records and a gnarly 80's stereo system, and that probably shaped a lot of my musical taste at a pretty young age. I remember finding all these LPs – Chuck Berry, Creedence Clearwater Revival, Joe Cocker, James Gang, etc…a lot of them didn't have proper album sleeves anymore, so it felt like this mysterious thing that I needed to unravel. What do these guys look like?  When did this come out?  But there was a large country influence as well. Bob Wills was a big one. Early George Strait. My parents said I couldn't sleep unless Merle Haggard was playing.
What's on tap for the rest of this year and early 2015?
Hoping to spread our wings a little and put some miles on the van in 2015.  We'll also be writing a lot of new material and making our moms "concerned but proud."   
Where do you go around LA when you need to get away? 
I grew up in the country where it's pretty silent, so sometimes the noise of LA still makes me feel a little crazy. I usually slip off to Topanga Canyon when I need to breathe for a minute, but I don't really manage to get away as often as I'd like.  
Where is the best place to stay updated with you online?
It's probably easiest to visit ivorydeville.com – you can see where we'll be playing, and also find links to instagram, facebook, music, all of that business.  
Ivory Deville – "Drainpipe"
Comments
comments