Favorite band: Tegan and Sara, Nicki Minaj, Tove Lo, Ellie Goulding
Latest posts by Emily Vargas (see all)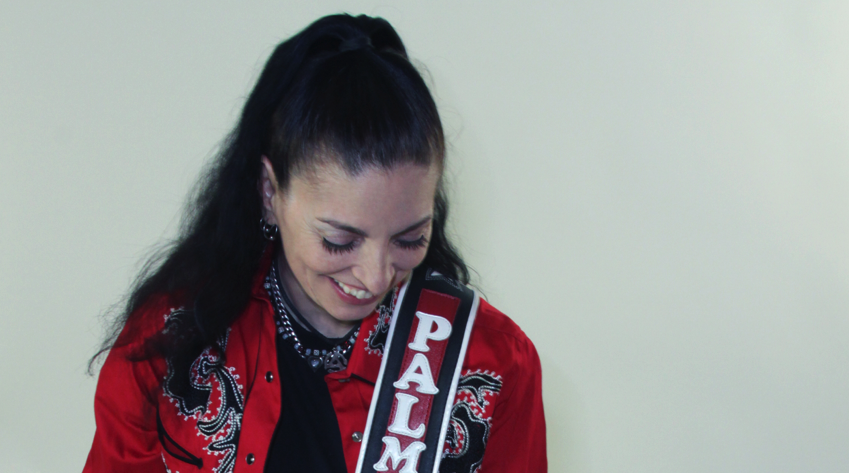 American rock and roll musician, songwriter, guitarist and producer Palmyra Delran recently chatted with GroundSounds about her musical inspirations, pre-show rituals and upcoming endeavors, check out our exclusive interview below.


Tell us about your experience with the music industry. In what ways have you seen it evolve and in what ways do you think it could still use some work?
The music industry is sort of an oxymoron. In the past, it was more about making music and being creative.  Now seems to be about selling merchandise or a character.  But, people have more control over what they want to listen to. Record labels can be totally bypassed & you can go right to the internet to buy stuff. Unfortunately, that also means the death of record stores. 
One of my favorite songs of your is "Your Best Friend" from "You Are What You Absorb" can you tell me about the writing process for that song?
Oh cool, thanks. It's definitely not a love song. That was one of those songs that was mostly finished in 10 minutes, then you have trouble with one or two last lines. It's about when people just settle in with their habits and never try to better themselves, although they want to.  
It's been said that you helped create the model for the ideal punk girl group, what advice would you give to young women starting in the music industry, especially in the punk/rock genre. 
Learn your instrument, work hard on your songs, and mostly have fun. If you play guitar, cut those nails. Have a clear idea of what you wanna do and commit to it. The music will always speak for itself. 
You have been touring a lot lately – do you have any pre-show rituals to get you pumped up?
I love a kombucha. Hanging with the band, yakking with people at the shows. Looking for picks…
What is your favorite song to play live? Are you excited to perform at any venue in particular?
I dig when people know the stuff – "I Thought You Said That You Were Gonna Kill Yourself" (a Friggs song) is always a toe tapper. Playing with different musicians is fun because the songs sound different every time. As far as venues go, it's always cool to play somewhere new that has great sound. 
You've started collaborating with Bubble Gun, tell us a little about that dynamic and how you all got connected.
John Carlucci (the Fuzztones, the Speedies) got ahold of me through FaceBook and asked me if I was interested in a west coast band, and of course I was interested! He put an amazing band together: John on bass, his wife Laura on keyboard, Michelle Balderrama on guitar, Rikki Styxx on drums. When I got to LA, they had learned all my stuff and brought their own styles & personalities into it too. They are all super talented and fun to hang with, so it really worked out! 
What has been your current inspiration for songwriting. 
Anything can be inspiring if you pay attention. Eavesdropping on people's conversations supplies lots of crazy stuff.  I've been doing a lot of co-writing lately too. Handsome Dick Manitoba (from the Dictators NYC), and I have a few songs, KCRW dj / music supervisor Gary Calamar and I wrote one through cyberspace, as well as long time writing pals Ben Vaughn, and Rachelle Garniez. 
Is there any musician dead or alive that you would want to collaborate with?
I think Marc Bolan & I could have come up with something cool… Joey Ramone would have been a perfect match too. 
You released the double-single "Run Now Baby" and "Yeah Yeah Yeah". What was the inspiration for releasing an original song and a cover together?
I'm hoping that this will be a yearly thing with Bubble Gun. An original on one side & an obscure cover duet on the other side for fun. "Yeah Yeah Yeah" is a duet with Kim Shattuck from the Muffs, and this year we're doing a song with Manfred from the Woggles. 
What plans do you have for 2015?
Starting this year out on a west coast tour has been perfect! I'm planning a lot more writing & some recording with my NYC band, and maybe another tour in Scandinavia with my pals Stupidity – who have backed me up on two previous tours over there. Other than that, I'm up for almost anything…
Comments
comments