People who make music out of pure passion, this is what I find truly inspiring.
Latest posts by Jon Berrien (see all)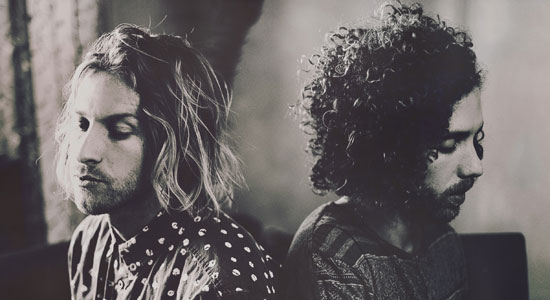 LA-via-Florida based duo SWIMM (Chris Hess, Adam Winn) have created an ambitious brand of ambient folk that has been making a lot of noise over the past few months. The guys recently dropped some fresh new visuals for their chill and carefree track "Beverly Hells," and with a new EP slated to drop this summer, GroundSounds decided to catch up with them for an exclusive interview, check it out below.
For those just discovering SWIMM, how did you two meet and start making music?
We met in our hometown in Florida when we were teenagers through surfing and youth group.  I had started a  two-piece band and when the drummer bailed on me I asked Adam if he could learn the songs in a week and play a show with me.  He did and I instantly felt a huge connection with his energy on stage.  As we started collaborating with more people and as I started writing music to be played as a full band we decided to start SWIMM.
Can you tell us a little bit about the transition from Florida to LA? What do you enjoy most about LA?
We had wanted to move to NYC or LA for a little while.  Coincidentally at the end of our first tour as SWIMM a spot opened up in this warehouse called the Cube in downtown LA.  So Adam and I decided we would just stay in California.  We shared a bed for the first 6 months of living here too.  So other than now having our own beds, what we most enjoy about LA is the wealth of inspiration.  Growing up in the sleepy town we did that revolved way more around surfing than the arts… seeing a show was like this wild thing that you could go do once a month.  You can see a show about every night here and I'm constantly around friends that are hustling and creating amazing shit.  I have really grown to love LA.
How did you guys decide on the moniker SWIMM?
Well it doesn't stand for anything.  We just decided on capital letters and an extra M simply out of 'font aesthetics' if you will.  But the name SWIMM does make a lot of sense to us.  We have always wanted to make music that could make you feel weightless.  Even if we are writing a folk song I like to think we can add an element of sonic freedom… or in a much more white rasta way of saying it "floaty vibes".  In a literal sense, I could say it is because we grew up in the water in Florida.  If I were to translate it to the whole artistic creation relation I would say we just appreciate fluidity in music.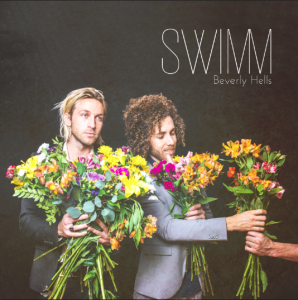 Can you tell us a little bit about the creative and writing process involved with your latest track "Beverly Hells?"
Within the last year I have started to write lyrics to songs before the music.  I had never really done that much in the past.  I wanted to make a conscious effort to bridge the gap between my essay/blogs and my lyrical writing.  Beverly Hells was one of these songs.  After I had all the lyrics it was then the process of finding the right chords and changes to give more life to the words that I felt strongly about.  Once I had all the music I was singing it in our house with an acoustic guitar over and over again to make sure I had found all the pieces to the puzzle.  That is when Spencer (my friend, roommate, and bandmate) offered to record and produce the song in a night as we were leaving for Florida that next day.  He came up with a radical bass line and keyboard parts that helped give the song the extra life it needed.  It was quite the pleasant process all done at home with my friend.
How did the video concept for "Beverly Hells" come about and what was it like the day of the shoot?
We recorded live "Buzzsessions" for Wild Honey Pie at our warehouse.  One of the DP's on the shoot was this viking looking stud named Miles.  Not only was he like a walking and talking Greek God but he was super amiable and was reading "The Power of Now" or something like that in time between shots.  From that day I had this vision that we should do a video where he is the 'face ofSWIMM'.  I could see him laying on a table with some sort of Zeus-like posturing and then we would be the band behind the curtain… hidden from the public eye.  The director Alex Familian elaborated on that idea and created more of a story line which was fun.  He is quite the professional for such a young buck so the day of the shoot was really fun but also mega structured.  It was cool to work with so many people that were all pros at the jobs they did.
What bands/musicians are you guys currently listening to?
Been diving into Amen Dunes a bit.  Been revisiting the Dirty Projectors album "Swing lo Magellan" a lot lately too.  Been getting into a lot of LA bands too from going to shows.  Feels like there is a cool wave of LA bands doing creative stuff… like Sego, Fever the Ghost, Talk in Tongues, Golden Suns, Iron Tom, Part Friend and Vaude… NES and Moth and the Flame… Obviously plenty more that I am forgetting but it is cool to see friends and even acquaintances doing rad stuff.
When performing on stage, what typically goes through your mind?
"Stop talking Chris… Stop talking and just play the music Chris… shit,,, I can't stop talking"
What was the inspiration for the track "Hope You're Staying?"
That song is about how wonderfully secure and sure you can feel after a break up until the very second you hear about that ex-lover's new lover.  Hence the chorus lyric "It's all alright, until there's someone new."
Are you guys currently working on any new projects- an album or EP that you guys could tell us about?
Yes!  So many projects!  We just finished the track listing for our upcoming EP that will be released in August.  We already have been writing and demoing songs for our first full length album.  I am working on essays and art for the next SWIMM Zine.  So far each of those have been a collaboration with one of my favorite artists.
What's next for SWIMM, what can fans look forward to?
Well hopefully they can look forward to the aforementioned but I suppose people can also look forward to Adam's hair getting even bigger and more bodacious and me embracing summer carelessness which surely will lead to me drinking more before shows and in turn me blabbing nonsensically from stage about how horny all my friends are.
Stay in touch with SWIMM: FACEBOOK | WEBSITE
Comments
comments