People who make music out of pure passion, this is what I find truly inspiring.
Latest posts by Jon Berrien (see all)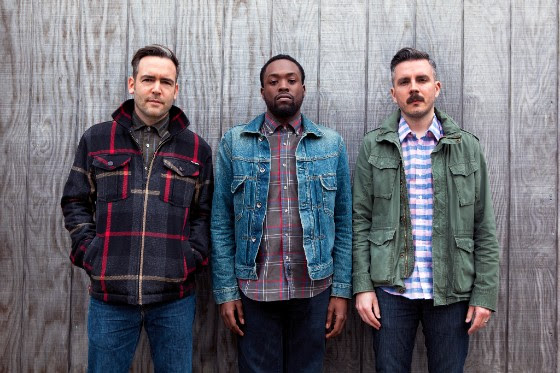 Featuring bluesy riffs, hip hop rhythms and soulful vocals, Baltimore band With Lions are gearing up for the release of their fresh new LP Fast Track. The album, set to drop on January 15th, is potent and raw with a variety of current events and social issues serving as the backdrop.
GroundSounds recently caught up with the guys to talk about their latest project, musical inspirations and more. Check out the exclusive interview below.
For those just discovering With Lions can you tell us about the formation of the band and how you guys started making music?
Christian: Nine years ago, Woody and I toured the states together with our previous bands, Lake Trout and Benzos, and over the course of that year on the road, we bonded and discussed having Woody produce the next Benzos album and after that we continued to work together in what we termed a "side-project" that eventually became With Lions. The idea was to start something new with no constraints or limitations when it came to genre and aesthetic. Our previous bands had long-established reputations when it came to music style and we wanted the freedom to explore other sounds, some drastically different than what we were known for, such as orchestral music, pop, folk, and hip hop. After operating as With Lions for 6-7 years releasing some EPs, performing and writing music for TV, we met Josh at our homebase in Baltimore, Wrightway Studios. He was a newly hired engineer there and after learning that he was a prolific keyboardist, producer and songwriter, we invited him to collaborate on what would become our latest album, Fast Luck, and from that point we've been a trio ever since.
How did you guys come up with the band name With Lions?
Christian: As any artist and band member will tell you, naming a band might be the hardest part. When we started to accumulate a collection of songs, Woody and I were playing with the idea of having a name that would invoke some sort of epic imagery. One day Woody had mentioned the idea of "running with lions" being something epic and I simply chopped off "running" from that concept and here we are.
What do you guys enjoy most about Baltimore? What is one locals only spot that visitors should check out?
Woody:  There is a great music scene, people collaborate a bunch in and out of the studio and really support each other.  It's affordable to live here so you can pay the bills doing your art. There are a lot of great new bars and restaurants, but nothing beats the vibe and cocktails at W.C. Harlan (scary and great thing is it's a 2 min walk from our studio.)
Can you tell is about the writing and creative process involved with "Down We Go?"
Josh: The song is about how quickly things can fall apart or go wrong. Once you make one bad decision and start to slide, be prepared to keep sliding down, and oh by the way… the devil will be right there to help you on your way, which rather than fighting that, you embrace it.
Woody: It always starts with a groove.  We wanted a rhythmic hook that we could build and build on. So a distorted baritone Guitar started it, then drums.  We wanted to borrow a little from our blues heroes muddy waters and bo diddly but then layer with more modern synth/drums/production.  something that would remind you of earlier times but fill a dancefloor or epic scene on the big screen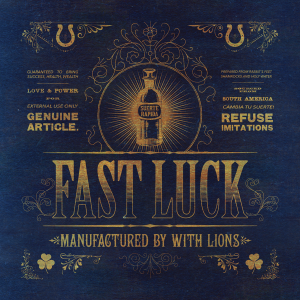 Can you tell is about working on and bringing your forthcoming LP Fast Luck to fruition? 
Christian: The sound of the record presented itself when the recent birth of Woody's son reminded him of his own father introducing him to legendary Delta and Chicago blues artists Robert Johnson, Howlin' Wolf, Blind Lemon Jefferson and Buddy Guy. And so these musical and cultural roots served as inspiration for the next 12 months of songwriting. Six months in, and numerous songs demoed, it was a bit of happenstance that we connected with local Baltimore musician, Josh Thomas. A child prodigy who cut his teeth in his father's church playing organ and drums, Josh had recently been hired to engineer and produce at our homebase of Wrightway Studios in Baltimore. What was initially a tracking session for him to lay down organ on a couple of tunes, blossomed into a partnership that steered the project into new territory when he asked if he could get his hands on the music and try out some ideas. This request reshaped the album and we spent the next six months feverishly working to see this vision through. While tracking, we ran all the live instruments through analog tape before going into the computer, trying to warm up the sound as much as possible.
What inspired the album title Fast Luck?
Woody: The inspiration behind this album came from a bottle. While on vacation in Panama, where I was born, I picked up a bottle of Suerte Rapida, a spiritual elixir well known all over South America as a way to achieve 'fast luck' after drinking, or sometimes bathing in it. This product and its snake oil-like packaging was something I earmarked as an aesthetic concept for this record.
What bands/musicians are you guys currently listening to?
Christian: Le Butcherettes A Raw Youth, Deantoni Parks Technoself and Miike Snow iii are all on heavy rotation.
Woody:  Kunk by Dope Body,  The soul of a man by Blind willie Johnson,  Music For the Motion Picture Victoria by Nils Frahm
Can you tell us about the inspiration for your track "Rundown?"
woody: it started with a looped baritone guitar part then grew from there. it started very simple.  kick drum and a few loops. Then josh added this killer vocal hook and wanting to do that justice, we went real driving and hypnotic with it.   The lyrics deal with an emotion so big that you feel this physical fire in your bones.. so we had do go big or go home.
After the album release, what is next, what can fans look forward to from With Lions?
Christian: Outside of this album, the three of us have been busy writing and producing music for film and TV with our production company, With Lions Productions (www.withlionsproductions.com). We've been fortunate to have placed half of the songs on Fast Luck in a number of big TV shows as well as collaborating on new material with a number of artists we work with at WLP, such as Deantoni Parks (Flying Lotus, John Cale, Boots, We Are Dark Angels), Omar Rodriguez Lopez (Antemasque, The Mars Volta) and Teri Gender Bender (Le Butcherettes). All of these projects will be releasing over the course of the next year.
Stay in touch with With Lions: FACEBOOK | WEBSITE
Comments
comments