Favorites: Bloc Party, 3EB, Gaslight, Tokyo Police Club, The Kooks, Pete Yorn, Andrew McMahon
Latest posts by Jake Craney (see all)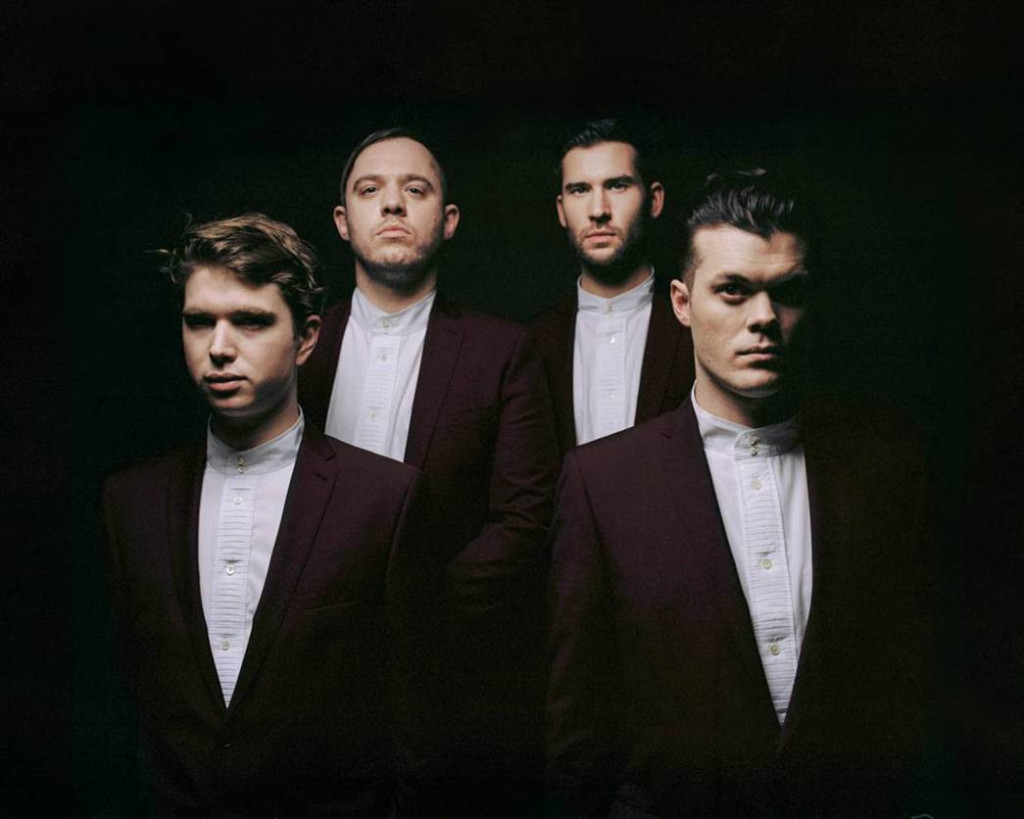 Manchester-based 4-piece Everything Everything is set to release their album Get To Heaven in the US in February. While already out in the UK, this album will get the proper fanfare it deserves stateside next month. The record is an exploration in creativity. It's "art-pop/rock" if that makes sense…suffice it to say it's simply a creative, unique, artistic album. Immensely catchy, while remaining the furthest thing from ordinary. While we wish we could have picked their brains about every song on the album – we caught up with the band to find out a little bit about their background and a couple songs on the album. Check out their thoughts below, along with their instantly addicting song "Regret."

For those in the US who have not yet been introduced to Everything Everything, can you give us a brief history of how the band came together?
We met through school and university, and moved to Manchester together to start a band. We found our guitarist via a misprint in NME magazine!
Which bands/artists did you look up to while forming the band. What was your goal for the sound/style of the new material when you started writing Get To Heaven?
Radiohead was the big one for us, they inspired us more than anyone to form a band – and to keep changing yourself. By the time we got to Get to Heaven our influences were a substantial amount of hip-hop and more electronic acts. We set out to make a really insensitive and unrelenting album with Get to Heaven, as a lot of the themes are angry and aggressive.
I'd like to zero in on two songs and get the story behind those tracks. To start, can you tell us about "Regret" and how that song came together, when you wrote it, what inspired it, the recording process, etc?
It started as a very silly little song I would sing at home, a kind of in-joke. One day I just decided to record it and got most of it done in a really short time. Usually when that happens very naturally it means the song is a good one. We made a demo together and it was one of the first things we sent to (our eventual producer) Stuart Price. We were worried he might make it super-pop but to our great enjoyment he roughed it up and made it much harder sounding. Lyrically it's simple, it's about the feeling of regret, with some extra issues thrown in.
The other track I wanted to explore is "Hapsburg Lipp," which I find fascinating. What is the story of how this song came together?
It's essentially what happens if you listen to Yeezus on repeat for a while. I'm not a rapper and we aren't hip-hop producers so I guess this is our interpretation of that music. I wanted it to be really dark and heavy, just a long insult lyrically. The idea is of holding onto power for too long and it corrupting you, like Golum – the Hapsburg dynasty clung onto power for so many generations, inbreeding, that they developed a grotesque family face.

NORTH AMERICAN TOUR DATES
03/28 – The Roxy – Los Angeles, CA*
03/29 – The Roxy – Los Angeles, CA*
03/30 – GAMH – San Francisco, CA*
04/01 – Wonder Ballroom – Portland, OR*
04/02 – Neumo's – Seattle, WA*
04/05 – First Avenue – Minneapolis, MN*
04/06 – Double Door – Chicago, IL*
04/07 – Mission Creek – Iowa City, IA*
04/08 – Mercy Lounge – Nashville, TN*
04/10 – Mr Smalls – Pittsburgh, PA*
04/12 – Paradise Rock Club – Boston, MA*
04/13 – 930 Club – Washington, DC*
04/14 – Irving Plaza – New York, NY*
04/15 – Underground Arts – Philadelphia, PA*
*supporting The Joy Formidable



Comments
comments