Latest posts by GroundSounds (see all)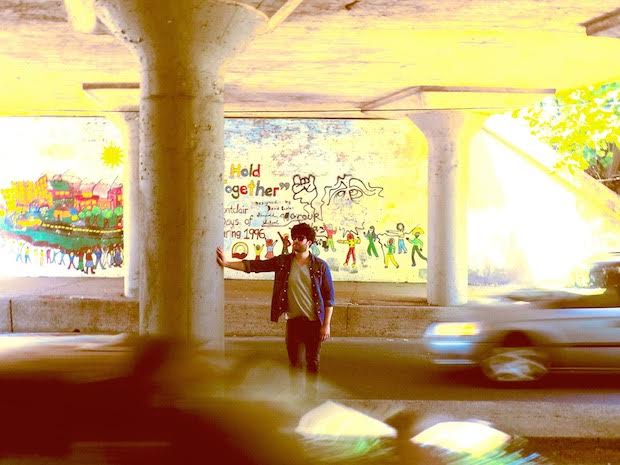 With six EPs to his credit in 2015, NJ-based songwriter Chris Gennone, with his project C.R. and the Degenerates, drove through a number of blue collar rock lanes with an earnestness that's impossible to fake. Now, C.R. and the Degenerates are releasing their first full length, Salt of the Earth, out today via Sniffling Indie Kids.
Groundsounds caught up with Gennone ahead of the record drop to learn more about what went into making Salt of the Earth and what lies ahead for the group. Check out the full interview while listening to the album's latest single, "Newport Pleasure Sickness," below.
Hi, C.R.! Congrats on Salt of the Earth. Could you tell us a little more on what the album is about?
It's a working man's record. I drove out to Denver last summer with some friends and it gave me a chance to explore new places and reflect. Most of these songs were influenced by things I saw out there and about past experiences working dead-end jobs, living, struggling and persevering.
You've been highly prolific with a slew of EPs released since July of 2015. What's your approach to songwriting like?
I don't really have an approach. Music comes in waves. Sometimes I'll have a bunch of songs but no words and vice versa.  Sometimes I won't write at all, sometimes I'll go through weeks where I don't even pick up the guitar. And then I pick it up and I won't be able to put it down. The key is to just not force it, otherwise it's bullshit.
Did you write all of these songs for Salt of the Earth or have some of them been kicking around for a while? Do you have a stockpile of songs that you eventually find the right home for when sequencing an EP/LP?
Yea, all the songs on Salt of the Earth were new ones written for that album. I wanted to have that cohesiveness instead of having just a collection of songs type of record. It had a direction. Once I started, everything just kind of fell into place.
Sometimes. I try to record everything. Every idea, every weird sound, every drunken conversation. Ya never know what you might find. I found a melody I recorded at my grandmother's house last year and used it for a song on my next record. It has a lot to deal with how I'm feeling at the time. If I'm in a dark place mentally, I'll go back to my demos and phone recordings and dig for material. Every LP/EP is a different case.
How did you arrive at your sound and who are your chief influences?
With Salt of the Earth I really just tried to sink into my roots and make a record that evoked a lot of the memories and feelings I had while traveling across the country.
But I've been trying different things each time. I don't want to be pinned down as one type of sound. I just finished an album that was written all on an old Casio keyboard and focused instead on minimalism. And I just started writing the third album which I want to be a little noisier than the others. Just when I start settling into a groove, I have to fuck it up and try something different.
In terms of musical influences, I was listening to a lot of Jason Molina's stuff with Songs: Ohia and The Magnolia Electric Co. when I wrote Salt of the Earth. I loved the sound of the drums on those records and the songwriting is so earnest and raw. But Neil Young, Bruce Springsteen and Gram Parsons continue to be primaries for me.
Any tour plans for later in 2016?
Yea I'm in the process of booking a couple weekend tours this fall with Lake Effect along with a few local shows around NJ and NY.
What bands are coming up in the NJ scene that you could turn us onto?
I really dig Glazer. Joy Cleaner has a great single out right now. I've been a fan of The Deafening Colors for a long time. Other Things is really cool and has a new EP coming out soon. Spowder is pretty good, had no idea they were from where I grew up. Can't wait to hear the new Soft Maybes album and recently I've been listening to Ghost Camp's new one.
But there's a bunch of other great ones too. These are just off the top of my head.
How can our readers purchase Salt of the Earth? Any record release show plans?
You can purchase the album digitally and/or physically at crandthedegenerates.bandcamp.com or the Sniffling Indie Kids website.
The record release show is slated to be Thursday, July 14th at the 73 See Gallery in Montclair, NJ with Lake Effect and a few others.
Comments
comments