People who make music out of pure passion, this is what I find truly inspiring.
Latest posts by Jon Berrien (see all)
Brooklyn-based classically trained guitarist Jeremy Bass has teamed up with GroundSounds to premiere "New York in Spring," the title track taken from his upcoming seasonally-based record.
'New York In Spring'  arrives June 9th and is a collection of Bossa nova-inspired tunes featuring Bass' live band, it was influenced by the great Bossa nova composer Jobim and Brazilian guitar masters Luis Bonfa and Baden Powell.
Check out our exclusive interview with Jeremy Bass and stream "New York in Spring" below.
For those just discovering Jeremy Bass, can you tell us a little bit about your background and how you got started in music?
I started playing music pretty much as soon as I could talk. I refused to leave daycare most afternoons because I insisted on playing with a tiny little Casio keyboard, so my parents bought me one for home and it all went downhill from there. I played a lot of different instruments, including twelve years of classical piano, before falling in love with the guitar. I've clearly never been able to limit myself to only one thing~~as soon as I knew enough chords to hack through my favorite Nirvana songs, I started wanting to imitate the sounds I heard on Zeppelin records, flamenco guitar, and Miles Davis. Studying classical guitar was my way out of any kind of traditional college, and I jumped at the opportunity, and fell in love with the nylon string guitar along the way. But playing classical music~~trying to craft perfect interpretations of other people's music and execute them perfectly on stage~~was not really my idea of a good time. I wanted to write and play my own music, in particular to really work at writing great songs, which is what brought me to New York City and eventually resulted in my first LP, Tenant, and then these two new EPs, Winter Bare and New York In Spring.
Soothingly chill and mellow, we love the vibes of your bossa nova inspired single "New York in Spring," can you tell us about bringing this track to fruition?
I direct music for an performance collective called The Secret City. In our early years, before we were a bi~coastal organization performing for hundreds of people each month, we set up shop in a rehearsal space on 14th Street and played to a group of ten people or so. Each month the theme would change~~Style, Money, Ancestors~~and it was my job to write a new tune each month. New York in Spring came out of a Spring theme, in my early years in NYC when I was just falling in love with the city for the first time. I played the song solo for years~~when I put together the band for our first show, Matt and Brian (Matthew Vitti plays drums and Brian Holtz plays bass on the record) found this shuffle groove underneath the bouncier bossa texture of the guitar, and the song clicked in a way it never had before. It was one of those magical moments when everyone taps in to the moment and creates something that sounds larger than its component parts. By the time we got to the studio, I think we were able to set this down in two or three takes. I love the way that Aaron's keyboard lines just float on top of the texture. Matthew Vitti later wrote the string parts, creating a kind of cinematic quality to the soundscape that I think perfectly mirrors the lyrics of the song.
What is it about New York City that you love most?
There are a million little things, but ultimately it's the energy of the place, the inexhaustible drive to make and create that inspires me. It can be exhausting, but it's what makes NYC what it is, and what allows anyone from anywhere in the world to come here and make it their home.
Many people don't realize that you are an award winning poet, can you tell us a little bit about your poetry?
People often ask me if I get inspiration from poetry for my lyrics, or if I turn poems into songs, but I find that they're pretty separate disciplines, even if they tap into and use a similar parts of my creative energy. My poetry tends to be more abstract and fragmentary than my songs, many of which can be narrative at times. It's a verbal energy that I've been trying to adapt to my songwriting, but often times the complexity of poetry makes for awful lyrics, and the simplicity of a good lyric will read like nonsense on the page. It's an ongoing conversation that changes all the time.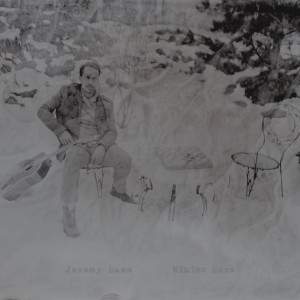 'New York in Spring,' (out June 9th) is also the title of your second seasonally based records (the first being 'Winter Bare' out now) can you tell us about working on this project as a whole?
My first album, Tenant, took so long to make that I was just sick of the songs by the time it came out~~I didn't want to listen to them, I didn't want to talk about them, and I certainly didn't want to play them live. I wanted whatever came next to be immediate and fresh, and I had two sets of new songs~~one a kind of alt~country set of love songs, which became Winter Bare, and these older assignments from Secret City, that became New York in Spring. I was lucky and fortunate enough to have the project funded on Kickstarter, which gave me the money I needed to get the project off the ground. Ultimately it was my producer, Ryan Rumery, who set the whole thing in motion, found studios in LA and NYC to record, and put me in touch with Craig Schumacher at WaveLab Studio in Tucson, where the real soundscape and vision of the albums came together.
What is it about Bossa nova and Brazilian guitar that attracted you to this sound?
How can you not love Brazilian music? The rhythms, the way the melody lines always seem to kind of float over the harmonic changes… I was tired of playing classical music, but still very much in love with the Spanish and Latin American repertoire that drew me to the instrument in the first place, so I started messing around with arrangements of classic Bossa nova tunes~~Jobim, Baden Powell, Luiz Bonfa. I was playing so much of that music that it kind of incorporated itself into my musical language: suddenly the songs I was writing started harnessing that rhythmic and harmonic language.
After the album is released, what's next for Jeremy Bass?
I find I create for a context~~Winter Bare was an assignment of sorts to write country and bluegrass inspired love songs, and New York in Spring came out of literal assignments to write for themes that I tailored to a Bossa style of playing: Style, New York in Spring, Work. So right now I'm waiting for my next context. I'm also fairly restless~~once I've made an album and figured out a certain sound, I get bored with it and need to create something new. This summer I'm going to be workshopping songs for a new album at WaveLab Studio, but I'm still searching for what that sound is going to be: more electric, incorporating different sounds and blending them together in a new way. The songwriting will have to change, too, to fit the new sound, and I'll be collaborating on writing these tunes with Ryan Rumery and Craig Schumacher, which will create something, hopefully, unexpected~~I'm excited to see what happens.
Stay in touch with Jeremy Bass: FACEBOOK | WEBSITE
Comments
comments