People who make music out of pure passion, this is what I find truly inspiring.
Latest posts by Jon Berrien (see all)
Featuring unbridled passion, melody and hard-hitting breakdowns, Virginia rockers A Collegiate Affair have been creating punk-rock goodness. The guys recently dropped 'Full Disclosure', the EP is a sonic sensation that will definitely perk up your eardrums. GroundSounds recently caught up with the band to talk about their latest project, musical inspirations and more, check out the exclusive interview below.
For those just discovering A Collegiate Affair, how did you guys meet, form the band and start making music?
Mikey and Tim met in high school and formed ACA two months after they graduated in 2011. We went through some member changes and added Dylan on drums in March of 2013. Dylan helped us finished up our first EP entitled "Out of Place" and we released that in June of 2013. In April of 2014, we found James on craigslist and added him on vocals. We then promptly started writing "Full Disclosure" and went into the studio January of 2015 to begin recording.
What made you guys decide on the band name A Collegiate Affair?
We came up with the name A Collegiate Affair right before we all left for our freshmen year of college. Before James and Dylan joined the band, we had two other members named Kevin and TJ. Kevin was going to Radford, TJ was going to Old Dominion University, and Tim and Mikey were going to Virginia Tech. The name 'A Collegiate Affair' stuck with us because we knew it was going to be tricky to write songs, play gigs, and function as a normal band.
What do you guys enjoy most about Richmond, VA?
I think the thing we enjoy most about Richmond is the culture. The downtown sector is divided into several different unique sections that each offer a vibrant piece of Richmond history. There's something for everyone in the city to do, regardless of what your background is.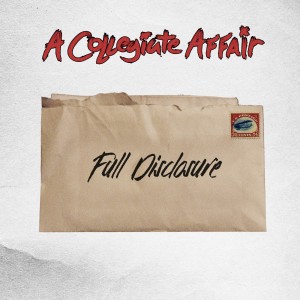 Can you tell us about working on your latest EP "Full Disclosure" and bringing it to fruition?
"Full Disclosure" was a ton of fun to write. We worked on it basically all of 2014 and then began recording at Full Circle in January of 2015. Our producer, Dan, helped us polish the songs up and we're very happy about how it turned out. It was a very long process getting the music arranged because we don't live in the same area most of the year, but we were able to overcome that.
What inspired the EP title "Full Disclosure"?
We entitled the EP "Full Disclosure" because we wanted listeners to know that we were holding nothing back. All of the songs on that record are about some heavy topic such as struggling with alcohol, dealing with family issues, or trying to mend broken relationships. We wanted to 'disclose' all of our flaws and put everything on the table. We're hoping that some people can relate to some of our songs and that it can give them the confidence to overcome whatever they're going through in life.
Can you tell us about the writing and creative process involved with your track 'Shock Value'?
'Shock Value' was a track that took us two years to perfect. Mikey and Tim came up with the concept and we presented it to James and Dylan in summer of 2014. The lyrics were actually rewritten three or four times before we decided on the final set. Musically, we wanted to go for something that was aggressive and very punk. The message of the song revolves around how the media slanders the general public in order to increase ratings; they also have a habit of glorifying and capitalizing on tragedies.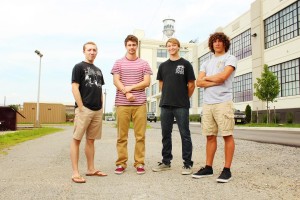 Can you tell us about shooting the music video for 'Shock Value'?
Definitely! We had an absolute blast shooting 'Shock Value'. We teamed up with local Richmond film company Altamira to produce and film the video. The location we used was this abandoned building on the outskirts of Richmond overlooking the James River. We filmed the instruments individually and then did a group performance at the end. On our second run through of the song with the full band, the cops showed up and we almost all got trespassing charges. It was totally worth it though because the video turned out incredible!
What bands/musicians are you guys currently listening to?
We're currently jamming the new Neck Deep album, Common Thief, the new Iron Maiden album, Broadside (Richmond represent), and Heart to Heart . Also, our friends Sharp Sleeves just put out a new EP and its killer so make sure to give that a listen.
What's next for A Collegiate Affair, what can fans look forward to?
We're currently in the middle of recording a new album. It has a really cool feel to it thus far. We've tried to mix our pop punk and post hardcore influences to create a cool blend of two genres that you don't see incorporated together much. We'll be accompanying that release with a new music video and probably a short tour this December/January! Also, we're going to be premiering a new website very shortly, along with a new merch line so stay tuned!
Stay in touch with A Collegiate Affair: FACEBOOK | BANDCAMP
Comments
comments