People who make music out of pure passion, this is what I find truly inspiring.
Latest posts by Jon Berrien (see all)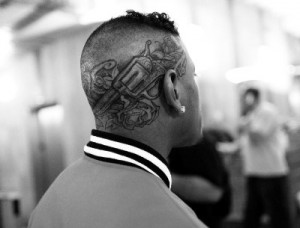 Keeping up with the tattooing your head trend R&B singer Lloyd just got this new ink on the back of his dome. It is a gun covered in roses, and no the artwork is not a tribute to the 80's rockers Guns n' Roses.  Lloyd just recently went on the record speaking with host Terrance J on "106 and Park" by saying:
           "I go from hard to soft. I go from guns to roses, which is in my tatt, and I like to go from the streets to the sheets. I make street savvy R&B music but I also like to slow it down and be sensual at times."
         Well, whatever floats your boat Lloyd at least its not Gucci's ice cream face tattoo.
Comments
comments