People who make music out of pure passion, this is what I find truly inspiring.
Latest posts by Jon Berrien (see all)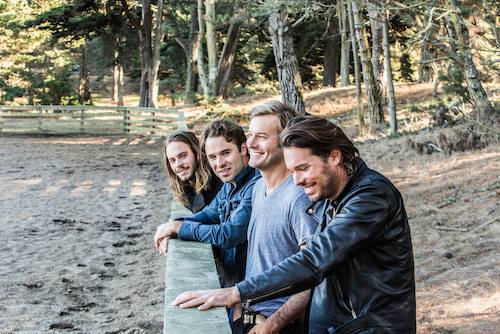 California indie-rock band Brown Shoe is currently releasing their fifth record Lonely Beast
in three parts. GroundSounds caught up with the band to discuss the album, life on the West Coast, and their upcoming plans. Check out the interview below and stay updated with Brown Shoe online!
You guys have been together for 10+ years now, how has the dynamics in the band changed and evolved over time?  
In the beginning it was us trying to find our way in the music, usually just using our instincts and being quite indulgent. Which can make for amazing moments and even songs but it's like a tight rope with no net.  Our goal is still now to write and play music live that always teeters on falling into a disaster. (Ryan Baggaley)
"Circus" was just released, what is the background/story behind that song?
During a mixing session at the studio Aaron started banging away at the piano just for fun or out of frustration not sure which and either Me or Bryson told Joe Johnston the engineer to press record with some room mic's that we're set up on some drums nearby. We loved it immediately and didn't want to lose the moment. It was great, Aaron was just being spontaneous and didn't realize we were listening let alone recording. (Ryan Baggaley)
Can you tell us about the writing and creative process for the single "Reservations?"
We wanted to write a subversively simple rock song and had worked a little bit on it but hadn't gotten very far. Ryan, Aaron and I were trying to watch a movie while Landon was in the basement banging away playing the same damn drum beat over and over. The house was not well insulated so we could make out only about half of the movie. I couldn't watch the movie so I went down to the basement, picked up the bass, Ryan and Aaron came down as well and an hour or so later we had ourselves a new song. (Bryson)
In Los Angeles there's an endless amount of options for restaurants, bars, shows, etc. it's a whole combination of things that make this city great. The weather doesn't hurt either.  We had some good friends visit us not too long ago and they have been to Los Angeles a bunch of times but they had never been to the Griffith Park Observatory. It overlooks the city and is just a beautiful space. Also, you can geek out on some of the solar system models they have on display. 
The first time I went there was with my friend Natalie and some punks slashed my tires and then called me a chicken. I ended up getting into knife fight with them and eventually my friend Plato shot one of them. The cops showed up, it was crazy. (Bryson/James)

What are your touring plans this fall/winter? 
We're going to get out a bit in October  we're going to be playing LA, SF, Sacramento, Santa Barbara and for the first time we'll be playing Big Sur which we're all really excited for. (Landon)
When you guys are on the road, what do you enjoy most about touring?
Obviously seeing the country and visiting different towns and cities. I think we'd all agree that checking out different food options is a must, but the best part of touring is playing shows and sharing our music with new listeners. (Landon)
What was it like the day of the music video shoot for "Nightwalker?" 
It was cool, really fun. We drove from Los Angeles to Santa Barbara to meet up with our cousin Brent LaSala who has shot all our videos. We had a few drinks, a few laughs, caught up and then started shooting a little dance party. We shot until 4am, slept a couple of hours and then shot all the outdoor scenes the next day. We were pretty tired until he had us get in the ocean in February, that woke us up. (Aaron)
Have you guys started writing and working on Lonely Beast Part III? What should fans expect sonically for this EP?
We have, it's been good. We had a little break and came back to write Lonely Beast, Part Three with a lot of energy. We haven't started tracking yet so it's tough to say, I'm not sure we know how they'll end up until they're finished. (Aaron)
After Lonely Beast Part III, what's next for Brown Shoe? 
We'll put out the Lonely Beast LP and then we'll be hitting the road next year.  Because we've been busy writing and recording this year we haven't been able to tour too much and it's making us a little stir crazy. We're all excited to get back in the van. (Aaron)
Comments
comments