People who make music out of pure passion, this is what I find truly inspiring.
Latest posts by Jon Berrien (see all)
Featuring tropical vibes, Brooklyn based synth-pop mastermind Memorry aka Shaun Hettinger has perked up our earbuds with his latest afro-pop, bongo bangin' jam "Feeling Sinister." He's cranking out feel good tunes and with his second track "All My Love" on the way, GroundSounds decided to catch up with him for an exclusive interview, check it out below.
For those just discovering Memoryy can you tell us a little bit about your background and how you got started with music?
I was a bandwhore in LA & NYC for years, sometimes as the frontman & others as a keyboardist. About 7 years ago I started down the road of an electro-pop solo project, which was called Kitten Berry Crunch. I made a pretty funny music video with cats playing drums (for "When This Is Over") & that got me a bit of attention. As I pursued it more seriously, at some point it became obvious that Kitten Berry Crunch wasn't the right name for the less jokey music, and Memoryy was born. As soon as I changed the name, A LOT of my friends finally confided to me that they had hated the old band name all along. ha, THANKS GUYS!
What do you enjoy most about Brooklyn? What is one thing every visitor should see or do?
The bars, the restaurants, the parks, the waterfront – basically everything! Every visitor should eat a Roberta's pizza, enjoy an arepa & cocktail at Caracas, and stroll through the Williamsburg waterfront (preferably during the foodie-favorite Smorgasburg on the weekend).
And then you can leave my neighborhood & check out Prospect Park, Rockaway Beach & Coney Island. Brooklyn is huge!
How did you come up with the moniker Memoryy?
It was a hot & humid night. I was sleeping with the mummified sounds of a city drunk on wine spritzers & cheetos, stumbling in the distance. I'll never forget it. I felt a chill in the air, a cool relief from my sweat stained sheets. As I slowly opened my eyes, I saw before me the ghost of David Bowie. He spoke in a familiar tenor, soft & hushed, and uttered these words : "From this day forth you shall be called Memoryy." And as he faded back into my dark & empty bedroom, I heard "With two Y's… TWO… Y'S!!!"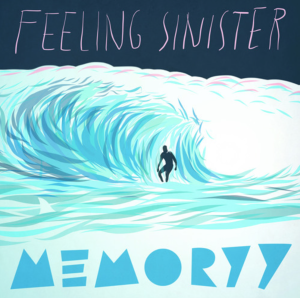 Can you tell us about the creative and writing process involved with your latest track "Feeling Sinister?"
The previous 2-3 EPs were written while I still had the 5-person live band. I think song ideas were rushed & quickly solidified during that "constant new show" cycle.  Feeling Sinister is the first of the new batch of songs where I've had the luxury of time, and writing while producing. I must've written 3 or 4 versions until I was happy with it. Once I added the bongo part, the whole song began to reveal itself. The Afro-pop vocal thing at the intro came next & I debated for a long time if that was just a tad too much for a white boy to sing. As you can tell, I chose to say yes to the cheesiness & embrace it.
What is it about the synth-pop sound that attracts you to it?
When you study piano for 13 years, your options are pretty limited. I wasn't going to be a jazz pianist or an accordion player, and I didn't want to start over & learn guitar… But also my very first keyboard was a red keytar I got for Christmas when I was 6 – so maybe it was just destiny?
Early on, I loved a strong melody & I embraced the idea of using the most current technology to propel my art – wanting to create something new that hadn't been heard before, or a new combination at least – because let's face it, everything's been done. There's also something very DIY / "anything can happen" when you're creating a synth patch. All these possibilities are right there at your fingertips & that's very exciting.
Could you tell us a little bit about your music production company?
Sure! I've written & produced one-off's for various TV, Film, & Web stuff over the years (including a Russian TV commercial I still don't understand & scoring a childrens show on PBS), so my musical output has always been varied.
I finally started Keytarred And Feathered a year ago just to have a home for all of that Non-Memoryy stuff. Right off the bat, I scored a short horror film (Chance by Ryan Wick), wrote some music for Revlon, & co-produced some songs for indie artist nRCS. It's been busy but fun – and I love collaborating with film people; being a part of something bigger than just "the song" is quite rewarding.
Can you tell us about the inspiration for "Eternal Sunshine?"
You may have guessed it – one of my favorite films is Disney's The Little Mermaid.
And also Eternal Sunshine of the Spotless Mind by Michel Gondry.
I love the hero (Jim Carrey) running through the labyrinth of memories, trying to escape & hide his lover from the incoming memory eraser; and I tried to write a song with as many twists & turns as that. At the time I was listening to alot of Hot Chip (whose songs are unsuspectingly weird) & I didn't think this song was that weird. Looking back, I now see it for the cool musical frankenstein that it is. It's all about those Disco Girls at the end!
What musicians/bands are you currently listening to?
All We Are, Body Language, Vacationer, Ben Browning, and a little song I'm sure you never heard of called "I Can't Feel My Face." I can guarantee all of America will be sick of it by next week (myself included), but right now I can't get enough!
What's next for Memoryy? What do you have in the works that fans can look forward to?
New single #2 is getting mastered this week, so that's coming soon, along with an accompanying music video that features me inside a giant human head. (This will all make sense later, I promise!) It's a moodier pop song called "All My Love" that I originally wrote to pitch to Rihanna or Flo Rida… Sooo expect that to sound totally different from "Feeling Sinister"!
Main photo by Dave Eisner
Stay in touch with Memoryy: FACEBOOK | WEBSITE
Comments
comments