Favorites: Bloc Party, 3EB, Gaslight, Tokyo Police Club, The Kooks, Pete Yorn, Andrew McMahon
Latest posts by Jake Craney (see all)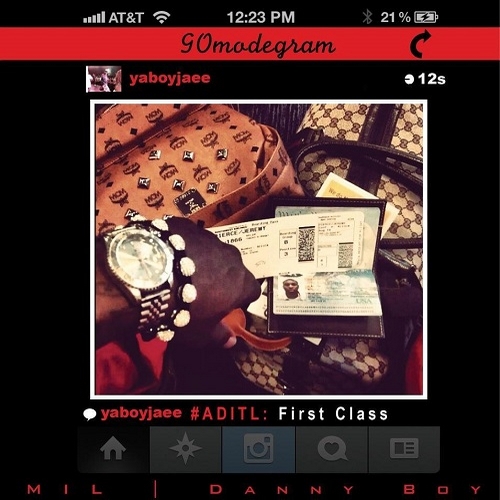 Rap fans—you're going to want to hear this one. Phoenix rapper Jae E works tirelessly at his craft and the result is a new mixtape that's full of variety and full of great tracks.
 Sometimes you'll hear an album and enjoy it, but grow tired of it because all the songs are so similar. ADITL: First Class is not one of those albums. Jae E brings it with up-tempo blistering verbal assaults, unique samples, great lyrics, and even a few slowed-down gems.
 Right off the bat, Jae E comes out of the speakers with his distinct voice (Think, Young Jeezy) and a great beat on "Boarding Pass." "Darkness Bright," one of the album's best tracks, follows and shows you that this album is going to mix it up. Keep the mixtape playing and you'll be treated to tracks featuring DMX and E40, among others, as well as a freestyle on "Ni**as In Paris," and "Selfish Ways," a stand-out track sampling both Journey and Gotye. The album closes strong with "Fast Money" (Featuring Nate Dogg), a song that's sure to get stuck in your head, and the closer "Finale."
 All in all, ADITL: First Class is impressive…very impressive. It's got accessibility, great rhymes, and variety. The Phoenix rapper shows he can be both catchy and creative and effortlessly mix up styles and tempos. If ADITL: First Class is a sign of things to come for Jae E, make sure you keep listening, he's on to something big.
Download the Mixtape here:
http://www.datpiff.com/JAE-E-Aditl-First-Class-mixtape.432548.html
Track Listing:
1. Boarding Pass
2. Darkness Bright
3. Camo (Ft. Vee)
4. Nothing 2 Lose
5. Get At Me (Ft. DMX)
6. HFYR (Freestyle)
7. Evil People
8. Selfish Ways
9. Live My Life
10. Niggas In Paris Remix
11. Go Get It (Ft. E40 and Thaddeous Shade)
12. Condaleezza
13. The Statement
14. Hundred Ones (Ft. Dorrough)
15. Shake It
16. Fast Money (Ft. Nate Dogg)
17. She Wit It (Ft. Vee)
18. Finale
Comments
comments