People who make music out of pure passion, this is what I find truly inspiring.
Latest posts by Jon Berrien (see all)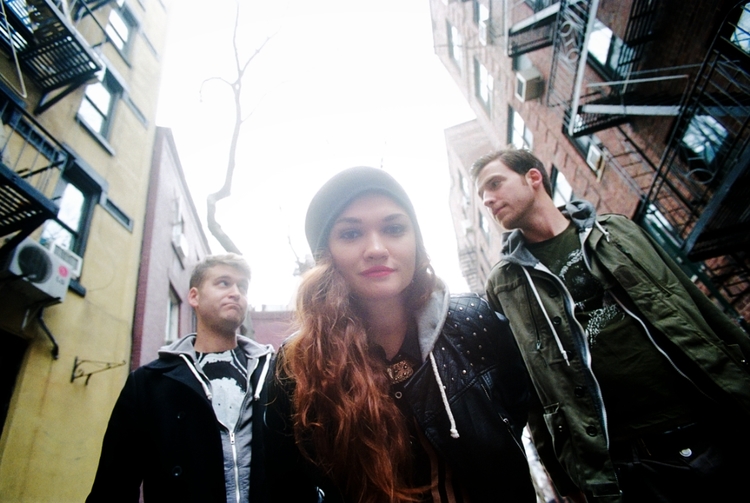 Officially together since late 2012, NYC based band MisterWives are relatively new, however their music is making moves in a major way. From a "Lullaby" to cover tracks (Drake's "Hold On We're Going Home"), the band has started to ascent and music lovers are taking notice.  GroundSounds recently caught up with lead singer Mandy Lee for an exclusive interview, check it out below. 
MisterWives is a relatively new band, for those just discovering your music can you tell us a little bit about how you guys formed and started making music?
Mandy Lee :  We all found each other on OK CUPID… OK, that's not true. Will and I had been friends for a while and would always play music together with some neighborhood friends. At the time I worked at a restaurant in the city where Etienne worked at a cafe a block away. We crossed paths multiple times and discovered we both were musicians so I invited him to a rehearsal shortly after. We instantly all vibed and wanted to play live shows together so Et invited bandmates from previous bands to come jam and we all fell in love and lived happily ever after. Our first show as MisterWives was in February of last year, seems like yesterday.
How did you guys come up with the name MisterWives?
The name MisterWives is a play on the mormon term "sister wives", where it is common for a man to be polygamous and marry multiple wives and they then become friends/sisters. It's the reverse of that…I married all the guys and they became friends.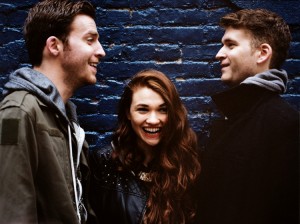 Not too long ago you guys released a kick ass cover of Drake's "Hold on We're Going Home", what was it about that song that attracted you guys to it?
Glad you like it! That song was everywhere on the radio while we were on our first tour and it was an ongoing joke to "just hold on we're going home". We love Drake (not as much as Amanda Bynes) and thought it'd be cool to cover his tune and display the song in a different light.
Congrats on signing with Photo Finish Records! Can you tell us about signing with them…what was that day like? What were you feeling?
Thanks so much! That day will definitely be one to remember forever. We all had our day jobs at the time. I was a waitress, Will worked at an investment bank, and Et worked for his dad's wine business. We anxiously all grilled the clock, counting down the seconds until we could leave. Etienne, Will, and I all met in front of the Universal building with sweaty palms and were ready to sign with the Photo Finish family. We signed in the legendary office of David Massey and had sore hands from signing so much as well as sore cheeks from smiling and laughing too much. This was such a milestone for us, it was the first huge step for the band. After that, we obviously went out and got pretty hammered with our managers. I definitely called in sick the following day.
Can you tell us a little bit about the creative process and inspiration behind "Coffins"?
That song wouldn't let me sleep until it was written. Somewhere around 2 am that song poured out of me. The following day I brought it to the guys and we began tracking it. We recorded it in Etienne's bedroom. His closet had the perfect acoustics for a vocal booth! Those homemade recording sessions were definitely our favorite but that song was a hard one to get through, losing a friend is never easy.
You guys are currently touring with 2 other amazing bands American Authors and The Royal Concept…how has the road been treating you guys? Do you guys have any fun stories you could share with us? What cities have stood out the most?
American Authors and The Royal Concept are definitely amazing bands. So much so that as I am currently writing this the rest of MisterWives are in the next room filming a video (possible a porno) for The Royal Concept who are trying to get us to go out to a bar with them. We are having too much fun, we've definitely become great friends with the guys and are sad we are already half way done with the tour. Every city is incredible. It's such a wild feeling being somewhere new everyday and meeting such devoted music lovers. I gotta say, Austin loves their music and know how to boogie. Another one of our favorites was being home in New York at Gramercy Theatre. That was pretty epic as well. A sea of people singing with us forever gives us chills.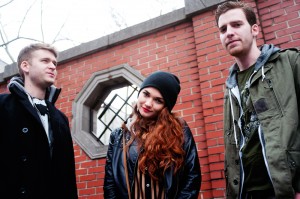 What people, places, and books have influenced you guys the most?
Breaking Bad. Other than that our hometown, New York is overwhelmingly inspiring. It's so culturally diverse and is filled with so many exciting talented individuals that you can't stop learning from them.
Can you guys tell us about shooting the music video for "Lullaby", what was this day like?
Oh man, that was a solid three days of shooting and possibly the craziest. Our brilliant director, Will Lucas had us tearing down walls, lighting shit on fire, kissing frogs, breaking into the Waldorf Astoria to shoot in beautiful ballrooms we could never afford to shoot in. That video was so much fun, and believe it or not, it only cost us a pizza pie.
You guys have a very vibrant, energetic, and playful chemistry while on stage, what do you guys feel as you're performing?  What do you enjoy most about performing?
All we feel is "holy shit this is awesome".  That chemistry is not an act nor do we plan out what things to do whilst on stage. We just genuinely can't stop smiling and jumping around because of the good vibes that circulate. We're all best friends and are the happiest on stage together. That's our home.
Are you guys currently working on an EP or album? What can fans expect for your next project?  Is there a release date?
YESSSSS! Our debut EP titled "Reflections" will finally be out on itunes January 7th. It's filled with a few revamped songs from our soundcloud as well as brand new music. It's definitely more dancy than what's on our soundcloud but still retains an organic feel. As soon as we get home from this tour we will not be seeing much sunlight as we will be working on our full length album throughout the winter. We are so excited to write new music, we are in such an inspiring place right now it's hard not to write about this roller coaster.
SHARE THIS FRESH NEW INTERVIEW!
Comments
comments