Latest posts by GroundSounds (see all)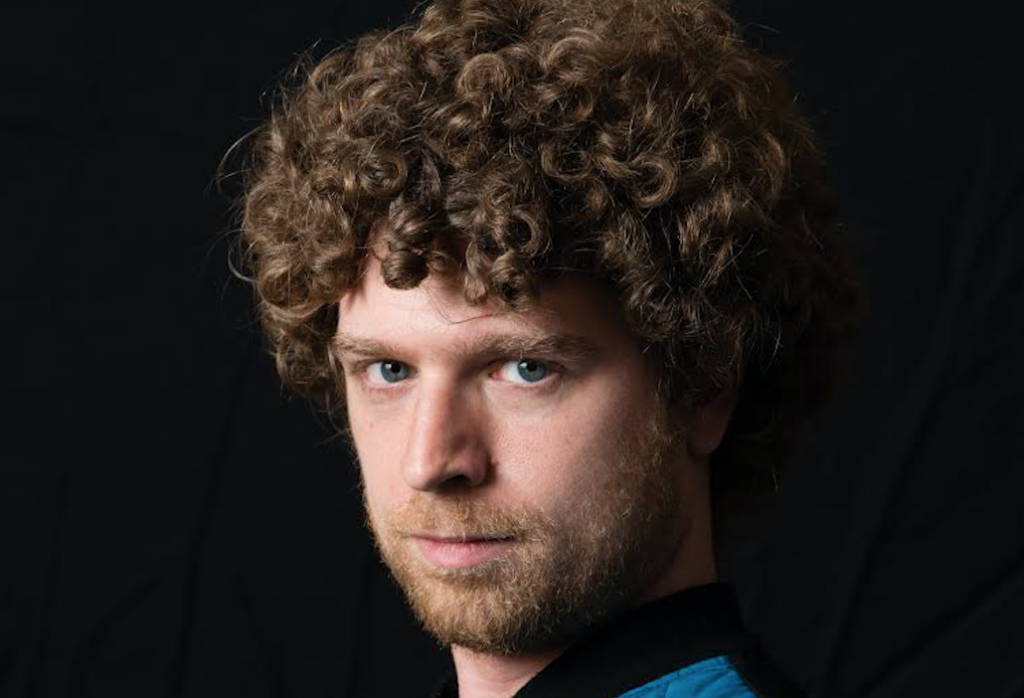 Based in San Francisco, musician and multi-media artist DJ REAL is a visionary with a wicked sense of humor. Not unlike other genre-subverting auteurs like Frank Zappa, Ween or Ariel Pink, DJ REAL's recordings explore surreal topics and subjects with a wide range of styles.
Today, DJ REAL is premiering "Pushups," the first tease off of his forthcoming LP, They'll Say Yes!. To go along with the stream, Groundsounds sent over some interview questions to get to know the artist better.
Be sure to listen to DJ REAL's "Pushups" below and mark your calendars, Bay Area readers, for his record release show at Doc's Lab on September 21st.
1) Hi, DJ REAL! Congrats on They'll Say Yes!. Could you go into some detail on what some of the larger themes are on the album?
Thanks! Well, I think every song on the album is it's own little world. It's pretty fragmented thematically, but I think there's a consistency in the sound, even if each song is a different genre.
The largest theme would be…doofiness? I have a song about Shakira, written from the perspective of a bumbling stalker. Another one about a dude who is dating a giant, but she was doofy and stepped on his friend by accident, killing him. 
Even for my instrumental "Long Fingers", I picture a dude with super long fingers, trying to get everyday things done, but it's next to impossible.
2) How did you arrive at your sound and who are your chief influences?

It took A LOT of experimentation. I was recording on my dad's Tascam four-track recorder in high school in a duo called Twisted Pickle with my buddy Matt. Then in college, I messed around with a Roland 880, and a Nord Lead keyboard I bought to play in a prog rock band I was in, called Karma. I know, awful name…haha. 
We were writing these super long, intricate songs, and I think, while I enjoyed them, I also wanted something different.  So I started recording super short, weird songs. I liked the concept of doing different genre's for every song. That led to taking a bunch of chances musically. Anything was possible. My first four albums feature keyboard parts that were all played live, non-sequenced. 
This was my first album recorded solely on a computer. I did everything in Logic Pro X. It started off in Pro Tools while I developed earlier pieces for the album, but those were eventually scrapped and I only focused on the newer pieces.

Musically, my influences are all over the place. I was really into prog-rock for a while, so King Crimson, Yes, Primus. I think hearing the Residents for the first time really changed my views on what could be done musically. I really dig Brian Eno too, especially his ambient stuff with Harold Budd…I've got a handful of ambient pieces I started writing the last that might creep into my Soundcloud at some point. 
And I can't forget Prince, who I got into when I accidentally bought the Batman soundtrack in 2005. I bought all the rest of his releases after that. I'm a big Ween, XTC and Talking Heads fan too….duh!!!

Comedy-wise – Steve Martin, Zach Galifianakis, Ron Lynch, Andy Kaufman, Steven Wright. 
3) This will be your 5th album since starting in 2000. How do you chart the evolution of DJ REAL?

DJ REAL started off as a joke back in the Connecticut open mic scene. It was something I did for fun, just me trying to weird out an audience with my strange songs and dance moves. I released my first album, "Happy Accident" in 2000, and started getting a small following in the New Haven music scene. I'd perform with a boombox plugged into the sound system. I'd hae to be super careful not to jump too hard onstage, or else the CD would skip. 
I released my second album, "Mr Reeus", in 2001. Over the next couple of years, I befriended a great band called The Chuck Hestons, and we performed all over CT. I released "Can You Hear Me Smile" in 2005, right before I moved to CA. That album was heavily influenced by The Chuck Hestons. And then in 2008, I released "Personal Growth". This was around the time that I really started performing at comedy shows in SF. 
I'm not sure if you can tell, but given that this album releases in 2016, there's maaaaaad exponential action happening between my release dates! At this point the live show includes a bunch of multimedia elements that weren't there when I first started. Setting up for a show is a pain in the butt, but it's worth it. 
Now, I perform with my laptop, an electronic sax, a guitar, a keyboard and vocal effects…all run through Mainstage on my Macbook. I wouldn't describe the albums as musical comedy, though, there are humorous elements. I'd like to release a 1 hour special someday, but it would be hard to capture in just audio, because a lot of the show is physical. 
I'm really excited about this new album. It's the most produced out of all of them, but I'm happy with the sound. It's probably my most poppy album, if that's possible. 
4) Tell us more about the visual aspect of DJ REAL. How did you develop your aesthetics and what sort of narratives have you played with in your live shows?
When I first started in 2000, my live show was a prank on the crowd. I'd do these really strange songs in costumes,  and dance like crazy, trying to weird everyone out. So a lot of time was spent at Salvation Army, getting some pretty wild outfits. Every song had a different costume and I would change right on stage in front of everyone. It was mainly a weirdo music show, playing songs from my albums live. 
When I started checking out the comedy scene in San Francisco in 2007, my whole approach to performing changed over time, morphing into a comedy situation. I used to carry a huge suitcase with all my outfits, and now it's a just backpack full of gear with only a few of the original outfits. 
I still do a handful of songs in my live act, but as far as narrative goes, the show is a pretty tightly knit string of small bits, all transitioning into each other. I also do weird slideshows and have audience members play video games I made, while they're onstage. I want the show to feel like anything is possible. 
Comedy, magic, music, anything…I'd say above all else, doofiness reigns supreme.

5) If you had an unlimited budget, what more would you incorporate into the DJ REAL live show?

I'd want to work with a group of software / hardware engineers to do some sort of augmented reality comedy / magic show situation.  I think there'd be so much potential with having crowd all see the show in a hyper reality, with crazy things happening all around them. And I'd want have a handful of drones flying around, doing weird things for the show. 
I'd also try to convince Adrian Belew and Les Claypool to play some songs with me, since I could potentially afford it.

6) You're based out of San Francisco. Any new bands or comedians you could turn us onto?

As far as bands go, I'm a big fan of Foxtails Brigade, based out of Oakland. They have a truly unique sound and stage presence. It's a great mix of angular and melodic elements. They just came out with a great new album:
https://foxtailsbrigade.bandcamp.com/album/foxtails-brigade
I just started getting into Spencer Owen also based out of Oakland. We've never met in person, but I feel like we are kindred spirits just by listening to his music. He just put out a cover album of Brian Eno's "Another Green World". And it's fantastic:

https://stimulusprogression.bandcamp.com/album/denotation
San Francisco comedy has changed a lot the last couple of years. We lost two really amazing venues in the last year, Lost Weekend Video and The Dark Room, in the Mission district. Lost Weekend Video had an amazing basement theater that sat about 30-40 people, and a ton of really great shows alternative shows happened down there. And the whole cultural landscape of San Francisco has been changing so drastically the last couple of years. I love the city, but some of these people…oof! 
If you're in town, I would suggest seeing Kaseem Bentley, Sad Vicious, Mary Van Note, Chad Opitz, Ashton Tate, Land Smith-Abbinante and Aviva Siegel. They're all doing something different and inspiring.

7) Any touring possible for later in 2016 or plans to get back into the studio?

I have no specific tour plans, but have some things in the works for 2017. As far as recording goes, I'm always writing new stuff.

8) What can people expect at your record release show at Doc's Lab?

The record release show will be so much fun! While the audience is waiting for the show to start, cheesy MIDI versions of my songs from previous albums will play over the sound system. 
It will be hosted by performance artist / comedian, Scott Vermiere (Viceland), who is an extremely underrated talent in the Bay Area. The amazing Mary Van Note (IFC) will do a comedy set, followed by Chad Optiz who will split his set between standup, and his Devo-inspired musical alter ego, Nervous Energy. 
I'll do a special version of my set and then will be joined by a backing band (Dominic Mercucio and Joe Lewis from the band Foxtails Brigade, and Kendra McKinley). We'll play about 5 songs from the album. 
The night will end with an interactive virtual reality experience that I can't quite describe here. You'll have to come to the show to see it, it will be absolutely nuts. 
Stay in touch with DJ REAL: FACEBOOK | WEBSITE
Comments
comments