Favorite Band: The NationalFavorite Artist: Basquiat.
Latest posts by Aubrey Bowman (see all)
Artist: Marcos Lafarga
City/State: San Francisco, CA
Website: www.marcoslafarga.com
 According to an old interview with Boogie Bot Monthly, Marcos Lafarga is a dedicated craft beer enthusiast and home brewer; therefore, even without ever formally meeting him, I would trust him with my unborn child. I suppose it is also worth mentioning that he is an incredible artist…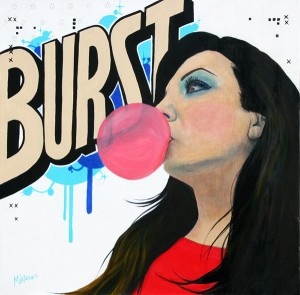 In an amalgamation of typography, graphic design and damn-near photorealism, Lafarga's signature work combines amusing text in original fonts complimented by quirky, smile-inducing images—BURST displaying an adult women blowing bubbles with chewing gum, Alive! with a nostalgia-causing image of Robot Johnny Number Five and MAKE magic! with a meme-worthy bunny in a top hat with a bow tie—to name a few examples.
 Alex Pardee, ZeroFriends figurehead and cohort of Lafarga, describes his work as type-pop-art, which is fitting. His paintings are drippy but clean with cool geometric elements; it's also super expressive and exceptionally balanced. The pieces effortlessly unite the different histories of his art education and background. The paint drips point to his exploits in graffiti. The superior layout and subtle color ways with bursts of complimentary color demonstrate his proficiency in graphic design. The inventive nature and flawless execution of the lettering verify his extensive study of typography.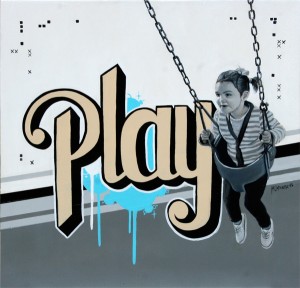 Every Lafarga piece is a tipping of the cap to old-timey, hand-painted signage, which is an art form nearing extinction and in need of resurrection. They are vintage, but timeless—modern, but futuristic. Contrasting angles and various shapes provide cool movement to the work and further exemplify his mastery of design. His text is so expressive—with or without exclamation and/or capitalization—that it screams off the canvas. You can hear the words by simply glancing at them. Furthermore, the fonts and text are so visually attractive that he could pair any two words together and make them look sexy as hell.
 If you are in the Northern California Area, check out Lafarga's upcoming show, "Possibilities are Endless," at Sacramento State University with Victor Malagon and our friend Ricky Watts opening November 7th. He will also be opening a show, "Letter Heads," at Modern Eden Gallery in San Francisco on November 9th. If you aren't in the area, check out his website, www.marcoslafarga.com, and poke around for some good eye candy. Cheers.
For those who are just discovering your works of art, can you tell us a little bit about your background, training, and education?
 I have always had a love for art. As a young kid I collected comic books and loved cartoons. I also admired sign and window painting. I remember seeing signs and asking myself, "how the heck did they make that?" I thought it was some sort of magic. I also remember trying to combine words with my characters in my drawings as a kid. I guess from early on I was always fascinated with making imagery that combined letters, characters and figures.
 In the mid nineties I got into graffiti. I was a mischievous kid growing up; I was into skateboarding and partying. Graffiti was just a way to be mischievous with my art and get attention. My senior year in high school I realized that I needed to become responsible and make something of myself so I decided to go to college. I attended junior college in Pittsburg, CA to study art and graphic design to prepare myself for a four-year college. During that time I kept active in graffiti and began researching art and design schools. In 2002 I began studying at California College of Arts and Crafts (now California College of the Arts). I was attracted to the school because I felt it was a good balance of commercial and fine art. At CCA(C) I studied Graphic Design, Illustration and Printmaking. While attending CCA(C) I began exhibiting my work in galleries in SF and Oakland. 
You recently painted at the Project One Gallery, can you tell us a little bit about this experience and exhibit?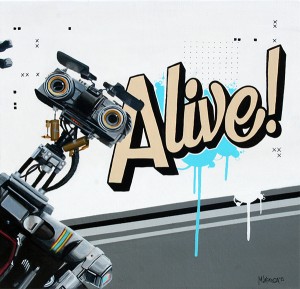 The first time I showed at Project One I was a part of the Lords vs. Cobra's show in 2011. I was in the show with some of my most respected friends and peers. After that show I was invited back for a few group shows and began a good relationship with owner Brooke Waterhouse and the rest of the folks at P1. Earlier this year they started Project One Walls, where the artists paint the walls rather than hang work and the walls then become the exhibit. I liked this direction. A few times in passing Brooke actually mentioned getting me in to paint.  One night I had a dream that I was at the gallery with a blank wall to paint, the next day I got a call and email from the gallery to schedule a time come in and paint. It was strangely coincidental.
 Painting at Project One was a blast and I had a great time at the opening. They treated me very well. I feel that they look out for the best interest of the artist. They are a great gallery to work with.  
What is it about graphic design and typography that intrigues you most?
 I think CCA(C) really opened my eyes to graphic design. I found a love for mid-century commercial art and design. I've always been into decorative lettering, but when I studied typography, I began a new appreciation for it. At the time we drew and painted all the type by hand. I discovered all the subtleties and nuances that go into typography and type design.  I was really bummed to find out that the students do everything by computer now.   
Do you work certain hours each day or only when you are inspired?
 I definitely will sketch or note something down if I'm inspired, but I need deadlines to actually get paintings done. I'm usually involved in various exhibits and projects; that helps me schedule time to make it happen. My good friend John Casey said he feels "People need something to work against them."  I agree with him on this and feel the same goes for me. I am very busy between family, working as graphic designer and my fine art. Juggling all of these things is a constant battle, but in the end, all three are what make me happy.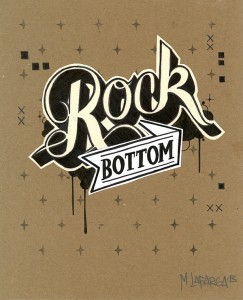 How did you discover your talent for art?
 I don't believe in talent. I believe in hard work and that's what makes people good at something. If someone has enough interest in something they dedicate themselves to it. Everyone I know who is successful is successful because they work hard at it. I've had an interest and have been inspired by art, for as far back as I can remember.
What books, people, places or things have you been inspired by?
 I have so many extremely talented friends that inspire me every day. The list is endless. I did just go see Atoms for Peace; that was very inspiring and spiritual for me. I am a huge Radiohead fan. I try to see them every time they are around. It's like a religious experience for me.
How do you know when a work is finished? 
 When I'm satisfied of course. 😀 
What is your most important artist tool?
 There is nothing like a good brush.
You have been able to start projects within your community that brighten up everybody's day; can you tell us about your latest undertaking—Don's Market Mural Project?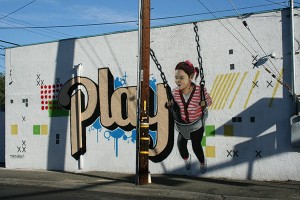 The Don's Market Mural has been in the making for about 2 years. I had discussed it with my neighbors and the business owners. Everyone was really into the idea. The owners wanted it cleared with the city, so I had to put a proposal together. I went back and forth with the city. At first they didn't want any letters or words and since that's a huge part of my work I had to do some convincing. I then reached out for some sponsorship. I didn't want any money, I just needed some materials and equipment. I reached out to local companies and they were extremely helpful and sponsored most of what I needed. Then I just had to schedule a long weekend to make it happen. Luckily, I finished the mural before the days got short. The community has been overwhelmingly positive about it.
What are you currently working on?
 I'm currently focused on an exhibit,  "Possibilities are Endless" with Victor Malagon and Ricky Watts at Sacramento State University, opens November 7. I am also in a group show called, "Letter Heads" at Modern Eden Gallery in San Francisco, curated by Leon Loucheur and Dave Foto, that opens November 9. I'm also planning for 2014. Updates can always be found on my website, marcoslafarga.com.
Enjoy this post? Please help support us, as we support independent music and artists! Click the Like Button!


Comments
comments