Favorite Bands: Queens of the Stone Age, Gorillaz, David Bowie
Latest posts by Mike Mehalick (see all)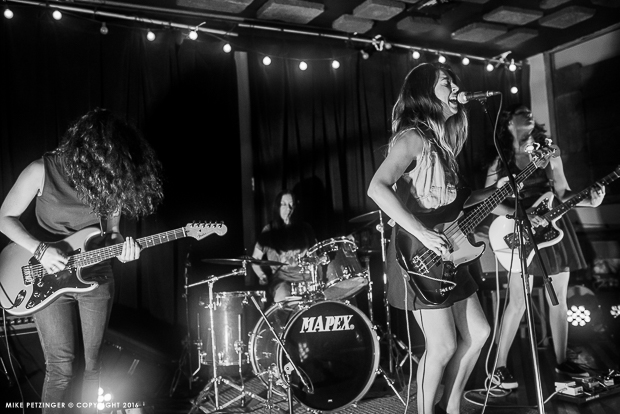 Photo Credit: Mike Petzinger
I had always seen the name Desert Sharks popping on great bills in NYC over the years, and this past Summer I finally caught them at The Footlight. I was totally blown away by the punk-surf-all-around-awesome rock stylings set forth by the quartet of Stephanie Gunther (vocals, bass), Stefania Rovera (guitar), Rebecca Rose (drums), Sunny Veniero (guitar).
Since then, GroundSounds pals Speak Into My Good Eye have launched a monthly showcase at that very same venue in Ridgewood, NY called Blox Cord. Tonight is the third in the series with GS proudly backing Desert Sharks.
Before the big gig, GS caught up with Desert Sharks to learn more about them and what's coming in 2017. Check it out below and be sure to catch their set tonight at The Footlight along with Scam Avenue, Sink Tapes and The '94 Knicks.
Hi, Desert Sharks! Since it's your first time on GroundSounds, could you tell our readers a little bit of your history?
Hey GroundSounds! Thanks for having us. About 5 years ago, four random ladies who kinda look like each other turned to the black hole that is craigslist, found mutual music interest, and decided to form a band. Somehow, even though Stephanie had never played bass before, that it was Sunny's first band, that Rebecca preferred pop-punk blast beats, and that Stefania thought we hated her when she auditioned (not true, we were just awkward), it was kismet, and Desert Sharks was formed.
Since then, we've released three EPs, toured the East coast and Midwest with some awesome bands like SWMRS and Aneurysm, and tried to play it cool when we've opened for bands like Metz, Diarrhea Planet, Tacocat, and The Coathangers.
Your last release was the Template Hair EP. Anything new coming up on the horizon?
YES! We are in the midst of working on our first full length and we are really excited about it. We're funding it ourselves so we're taking our time writing it. We're recording with Jordan Lovelace from Tournament (who also produced their last record, have you heard it? If not, go listen NOW) so we're realllly excited about it. Stay tuned.
What's your approach to songwriting like? Do you come at things relatively fully formed or do you riff off of each other in rehearsals?
Typically one of us will come to practice with a riff or two in mind and we'll just play it over and over and build from there. We'll figure out song structure and then vocals, lyrics, and guitar solos are last. Other times, when we've got nothing, we'll each sort of space out and mess around on our instruments in a loud chaotic pool of ideas till something good is born.
You recently contributed to the Band Cramps charity compilation. How did you get involved with that?
Naomi from Basic Bitches (who are awesome) reached out to us and asked if we'd want to be a part of the compilation and we jumped on it. Sunny volunteers with Willie Mae Rock Camp so we thought it would be very cool to be a part of something that raises money for them.
Any new bands/ food spots/ arts purveyors in NYC you could turn us on to?
Oh man. I feel like if we listed all the bands in NYC we love it would get crazy and then we'd feel bad if we left someone out so how about we throw you a curve ball and tell you to check out Black Hatch from Manchester, NH. We played with them on our last tour and they kicked ass.
It's not new, but a fun place to check out in Brooklyn is Syndicated off the Morgan L. They show $3 old movies in a cool retro theater and serve really good food and drinks while you're watching.
Any upcoming tour plans for 2017?
At the moment we're mostly focused on finishing the record so we can tour on that, but possibly this summer!
Where can our readers follow you?
Follow us on instagram @desertsharks and fb facebook.com/desertsharks
Comments
comments